Trip Overview

We arrived at Parker Canoe Outfitters at about 10:30 a.m. on Saturday, four middle-aged but still quite fit men, ready for an overnighter on a piece of the Allegheny none of us had done before. After moving my custom black and gold Old Town royalex and all our gear from the CRV to the transport trailer, and renting a second Old Town red royalex, we got Chuck to drive us 25 miles upriver to Kennerdell, where we put in, a very shallow and rocky spot. It was a difficult access point, to be sure, though it didn't help that we'd had three weeks of dry weather before that.
Once on the river, though, we found the paddling easy and enjoyable. Mike and I took turns steering my black beauty, while Bill and Lou took their shifts in the red rider. This is a stretch of the river where cottages often line the banks, and backroads (no highways along here) weave in and out. But some parts are nicely devoid of civilization, and we enjoyed the ducks and geese, and an occasional heron and eagle. A few riffles, one or two perhaps nearing a class I, made for a little adventure. Meanwhile, we had to get out and tow ourselves over the shallows only once. We stopped for lunch at a spot called The Riviera, which would have been a good place to camp if it had been six or seven miles further downstream.
Later, at about the halfway point, we began looking in earnest for a spot to camp. There are few campable islands on this part of the river, and the shore is pretty much either overgrown with brush and weeds or composed of steep, rocky slopes. Finally, around 5 p.m., we found a flat spot that wasn't too overgrown and that sported an old fire ring at about mile 13. After setting up the tents (we nicknamed Lou's the Taj Mahal, because of its odd football shape and large vestibule) and starting a fire (Bill used the magnesium block and spark striker method), I tried my hand at fishing from the bank. It was a good, weedy spot where you'd expect a lot of bass to hang out. But the fish weren't biting, at least on the series of lures I offered them. We cooked up the tuna and salmon we'd brought along, had a beer and relaxed for the evening. We retired to the honks of geese settling in for the night, a sound that continued pretty much unabated throughout the night.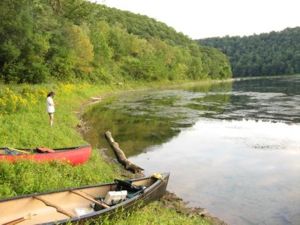 Next day, we were on the river by 10 a.m. There are four or five bridges that mark your progress on this stretch. One of them is an amazing span of Route 80 near Emlenton. Beyond Emlenton are lots of nice sized boulders jutting out along the river. We stopped for lunch near a group of them, where the fish were literally jumping out of the water. Do you think I could catch one though? No, they continued to taunt me as they'd done all trip long.
Nearing Parker, the Clarion River flows into the Allegheny, giving us a nice little ride past some islands and floating us back to the outfitters by 4 p.m. It was a good two-day paddle that we won't soon forget.
One note: When Parker Outfitters takes reservations, they do not confirm it with a credit card or send you any other confirmation information. I was quoted a cost for the trip (canoe rental and transit) by the owner (I specifically asked twice). Then when we arrived, we were charged $20 more than the quote by the assistant on hand (the owner had disappeared). The reason given was that we were doing an overnighter. The website prices do not note this extra charge, even on trips you couldn't possibly do all in one day. Needless to say, I confronted the owner about it when we returned, and only after a long "discussion" did he belligerently give us back the overcharge.

Accommodations:
None
Outfitting:
2 Old Town royalex canoes
Fees:
PA boating permit
Resources:
Google satellite maps (very nice)
Trip Details
Skill Level: Beginner
Water Type: River/Creek (Up to Class II)