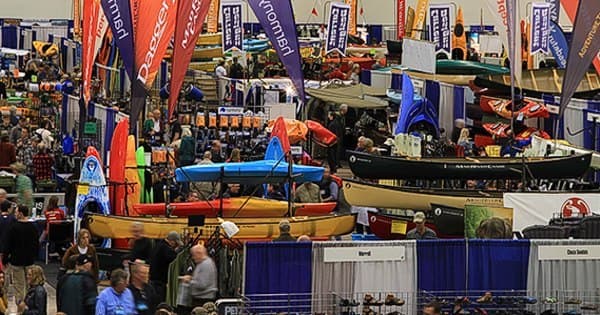 I call it the "Star Trek Convention" for paddlers. Except the attendees are wearing Tiley hats and various shades of camouflage rather than dressing up as Klingons or Borgs. It's a festive atmosphere; a modern day voyageur rendezvous.
I've been attending and speaking at the event for years now. The camp gear being sold has changed but the people haven't. They're like-minded outdoorsy types walking around in a dream-like state, just waiting for the ice to melt off the lakes. They're a great bunch to hang around and chat with and I'm looking forward to presenting there again this year.
Canoecopia had its humble beginning back in 1976, when the present day organizer, Darren Bush, had hippie hair and a Grumman canoe. It started off as a sidewalk sale for the Madison, Wisconsin outdoor store, Rutabaga. Now it's rated as the largest outdoor show in North America, bringing in over 20,000 visitors who shop for gear and become educated (and entertained) by a multitude of incredible speakers. Cooking demonstrations, pool demos, hands on workshops and lectures from some of the key people in the outdoor community will keep you busy. There's six speaker rooms with 200 to 500 seats, 110 seminars, running continuously for the three-day event.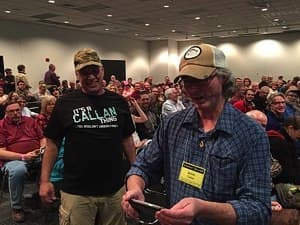 I'm giving two presentations at Canoecopia in 2017. One topic covers my ultimate canoe journey down northern Scotland's Spey River (source to sea). In the other presentation, I will be sharing some tips and tales on taking my pre-teen daughter on canoe trips. I have labeled this talk, "My Pre-Teen Daughter Still Thinks Canoe Tripping is Cool."

At past shows, I've spoken on "How to be a Happy Camper" - a reminder on why we like being in the wilderness so much - and why it's more important to be comfortable out there than trying to survive. Another topic I covered was entitled: "Kevin and Andy's Magical Mystery Tour". This concerned my good paddling buddy, Andy and I on a fun canoe trip - 8 days along the eastern shore of Ontario's Georgian Bay. Why did we choose this route? Because I had previously taken him on a dreaded canoe trip around Algonquin, which consisted of 93 portages! Georgian Bay has none. Andy needed a fun trip after the Algonquin challenge!

Kevin Callan is the author of 15 books including "The New Trailside Cookbook" and "The Happy Camper." A regular keynote speaker at major North American canoeing and camping expos for over 20 years, he has received three National Magazine Awards and four film awards, including top award at the prestigious Waterwalker Film Festival. Callan lives in Peterborough, Ontario, birthplace of the modern-day canoe.