If you plan on doing any coastal kayaking, then you'll need to learn about how to deal with currents and tides in order to travel safely and efficiently in the ocean. Both can be predicted with incredible accuracy using tide books and marine charts.
When the water is rising, it's a flood tide. When it's receding, it's an ebb tide. The lull in between these two is referred to as slack tide. The high tide is the point where the water is at its highest, and the low tide, the point where the water's at its lowest, and there's roughly six hours between these two tides.
Since tides can vary so greatly, they have a huge impact on the accessibility of certain areas. It's not uncommon for channels with plenty of water at high tide to become completely dry at low tide. Marine charts provide this information and will let you plan accordingly, but it's tidal currents that have the most impact on a sea kayaker.
Tidal currents are caused by the massive amounts of water associated with the changing tide being forced around islands and up channels. When this water gets pushed through narrow channels, you'll often get strong currents, and in some cases, large rapids with towering waves and whirlpools.
When choosing a route for a day trip or a multi-day trip, you need to be aware of any tidal current that you may encounter as they can have a huge impact on your progress. Marine charts will, again, let you identify them, and then a tide chart will let you know the exact time and strength of the tide at any location. It's important to note that even if you have slack tide on the coast, a few miles inland, the tide may still be moving.
To make the most progress, you'll want to time things so that you're paddling with the current. If you're doing a day round-trip, this will mean timing things so that you paddle away with the current, and then turn around and make your way back home when the tide changes so that you'll paddle home with the current.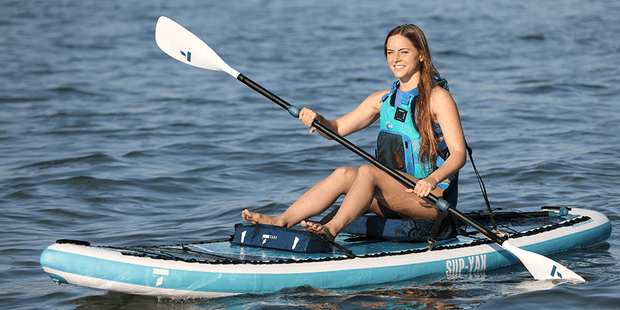 TAHE 10'6 & 11'6 SUP-YAK Inflatables
2-in-1 Kayak & Paddle Board complete packages for single or tandem use.