As the sport of kayak fishing continues to explode in popularity, more and more people are putting their skills to the test offshore. And so in this video we are going to look at the top five offshore kayak fishing tips.
First off, though, it's important to establish that offshore fishing is not recommended for inexperienced kayak anglers unless you're accompanied by a professional guide, and it should never be done alone. If you plan to kayak fish offshore without a guide, I highly recommend that you take a sea kayaking safety course. It will teach you valuable information such as paddling, safety, and rescue skills.
With that being said, the first and most important tip is to wear a life jacket at all times. And there are now lots of kayak fishing specific life jackets to choose from which are comfortable and don't restrict your motion when your paddling or casting. They also have pockets and features for storing fishing tackle and gear that you want quick access to. Of course, a life jacket doesn't do much good if you're not wearing it properly and so make sure it's tight enough to feel snug but comfortable.
The second tip is to do some research before heading out and have a plan in mind for how to deal with the different things you might catch while you're out there. For example, it's important to have line cutters on hand that are easily accessible if you hook into something too big or too toothy to land. On a similar note, if you do find yourself fighting a big fish from your kayak, don't bring the fish close to your boat while it's full of energy. Be patient.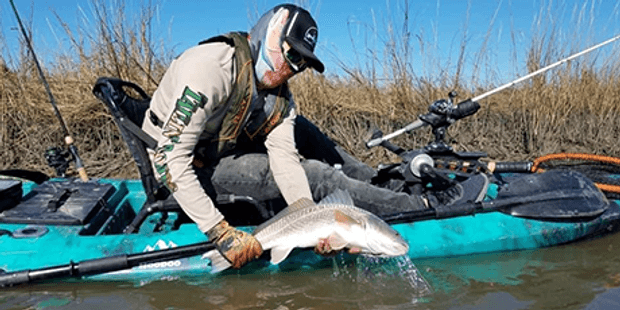 ~Fishing Kayaks from Hoodoo Sports~
Looking for a high quality fishing kayak at a reasonable price? Check out Hoodoo's lineup featuring the new dual-drive Impulse.
The third tip is to protect yourself from the elements, because when you're kayak fishing offshore, there is no quick escape. To protect yourself from the cold, bring some warmer clothes along in a dry bag. To protect yourself from heat, bring lots of water, sunscreen, and wear clothes that offer sun protection. To keep your energy up, make sure to fuel up before heading out, and bring high energy snacks along on your trip.
The fourth tip is to bring some type of emergency communication device with you. A cell phone isn't enough on its own. I strongly recommend having a hand held VHF radio when you go offshore because it can get you in touch with other boats in the area or even the Coast Guard, and it can even give you an up to date weather report. If you're bringing a VHF radio, make sure you know the protocols for using them. On top of having a communication device, it's also important that you have other emergency signaling devices on hand like flares, strobes, or reflectors to get other people's attention in an emergency situation.
The fifth and final tip is to be sure that you can re-enter your kayak from the deep water in case you capsize or fall out. The only way to be sure you can do this is to practice before you get out there.
So there you have it the top five offshore kayak fishing tips. I hope you found this video helpful.