The New 2019 Wilderness Systems Pungo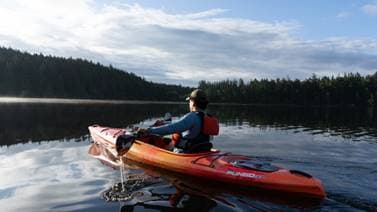 ---
Wilderness Systems, an award-winning manufacturer in recreational, touring, and fishing kayaks and accessories, unveils its newest generation of the legendary Pungo family of kayaks for 2019. The new, updated Pungo models are released to customers today with improvements in design and styling, unmatched speed, superior stability, premium comfort and intelligent outfitting.
Through artful engineering, the all-new Pungo family features a size for everyone – a 10.5-foot model is a compact package designed to fit a large variety of paddlers, a 12-foot model accommodates small, medium and large sized paddlers, and a 12.5-foot model for a large/x-large fit or paddlers wanting to carry a lot of gear. No matter the size, consumers are sure to see the newest models packed with updated features and new ways to personalize their Pungo to fit whatever adventure lies ahead.
The new Pungo offers significant improvement over their predecessors in all areas and are designed to be the best performing recreational kayaks in the market. Improvements include increased stability, both initial and secondary stability while simultaneously significantly improving speed. The Pungo offers the most stable platform coupled with unparalleled speed in the industry. Paddling is effortless in the Pungo, with improved ergonomics and expanded seating areas that have been integrated, these updates improve comfort while accommodating paddlers of all sizes and shapes. Wilderness Systems has created a high-performance recreation kayak with the rock-solid stability for paddlers of all skill levels from beginner to expert.
The one-piece rotomolded construction incorporated into the Pungo models contains specially formulated high-density proprietary resin, which allows the hull to hold extra material where it's needed for added strength and durability.
"The Pungo has always been a fan favorite, and definitely our most popular kayak we have ever made," said Adam Ott, Product Manager at Wilderness Systems. "We are thrilled to have the opportunity to take the best-selling kayak of all time, trusted for over 25 years and improve upon it. It was recently unveiled to the paddle sport industry during a kayak test day and the product was exceptionally well received and we are excited to share it with our loyal consumer base."
Exciting updates to the previous model have enhanced overall user experience with intelligent outfitting and updated comfort technology. This updated Pungo comes equipped with the adjustable Phase 3â AirPro seat, rated as the most comfortable seat on the market. This upgrade will relieve stresses that the normal paddler may fall victim to in the back, legs and hips, allowing for endless water time. Additional features to meet every paddler's needs include a deck bungee that can be custom-configured to stow your gear, a new dashboard with a removable dry box for your valuables and phone, cup holder, water bottle holder, a recess for the Wilderness Systems lithium battery, and flexible mounting options including a 3-inch SlideTraxä for easy mounting of accessories.
The 2019 Pungo 120 and 125 are now available at key retailers at WildernessSystems.com starting at $999, along with select specialty retail locations nationwide. The Pungo 105 model will be launching soon. For more information, visit WildernessSystems.com, follow the brand on Instagram at @wildernesssystems and Facebook at @WildernessSystems.