"Only half of kayaking has to do with hard skills. The other half is mental, and your mental state is controlled by your level of confidence." (Tao Berman - Former Waterfall World Record Holder)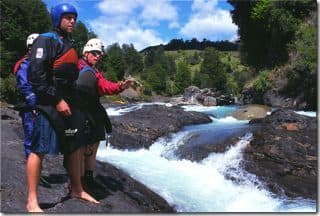 We were taught early on that good paddling technique is as important as having strong paddling muscles. What we weren't taught right away is that kayaking is as much a mental game as it is a physical one, and that in order to improve you need to develop both of these elements. Since you're reading this, you have already shown the mental capacity to be a great paddler, because at some point you made the decision to explore a sport that is falsely considered by many to be reckless and dangerous. Whether you're already paddling or just getting into the sport, you've probably already learned that whitewater kayaking is like any other outdoor adventure sport in that it can be as dangerous and exciting, or as relaxed and enjoyable, as you choose it to be.
The mental game is a dynamic and unique attribute of this sport. Early on, you need to teach yourself to do many things that are counter-instinctual, such as keeping your head down while rolling, getting more aggressive as the current gets stronger, and using rocks as your friends. As your mental game improves, your confidence could progress more quickly than your actual physical skills. This of course can result in poor decisions that create dangerous situations. On the other hand, you may end up with skill sets that surpass your mental game. It's a lot easier to gauge where your physical skills are, but it's very important that you take the time to consider how your mental game is doing.
The people that you choose to paddle with plays an enormous role with your ability to control your mental game. Although it's often nice to paddle with people who are better than you, make sure that they help push you, but that they don't shove. Remember that one of the differences between a good paddler and great paddler, is that the great paddler makes the moves look easy! Too often I've watched lesser paddlers change their minds, much to their misfortune, and run a rapid after watching a really good paddler make it look easy. Listen to your gut!
After all, the goal is to have fun with one of Mother Nature's most incredible natural playgrounds. How you do that is a very personal thing and should not be dictated by how others feel. Remember that every wave has something to teach those that are willing to learn. Be humble, be curious, and above all, have fun!
Ken Whiting was the 1997/98 World Whitewater Freestyle Champion. He has produced an award winning series of instructional kayaking books and videos, and leads kayaking trips to Chile. Check out www.playboat.com