A few weeks back I had the privilege of hanging out in Ontario's Algonquin Provincial Park with film maker, Justine Curgenven (of "This is the Sea" fame) while she worked on her latest film - a canoe DVD rather then her usual Sea Kayak work.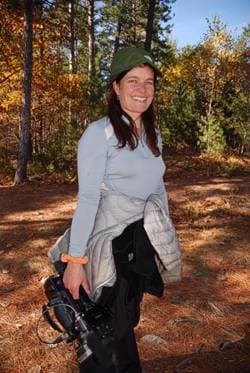 It's a given of course that I'd be excited about a canoe film. I'm an over-keen canoeist. I truly believe, however, that every paddler on this planet should be just as excited as I am. This is no ordinary canoe film. Justin's project is the first of its kind, showcasing some of the sports top names and most talented paddlers, as well as taking you to dream canoeing destinations and on remote wilderness trips. 12 separate films beautifully capture the essence and variety of canoeing. Shot in High Definition in Canada's wild Mountain River and Algonquin's Barron Canyon and Petewawa River, a crossing of Scotland's Ranoch Moor by canoe, a 100 km birchbark canoe journey through Minnesota, canoe sailing on Bala Lake in Wales and more.
Here's Justine's write up on our adventure together while in Algonquin:
"It was the first time Kevin Callan had been paddling since a man dressed as a bear jumped on him and fractured his ribs! The accident happened while Kevin was filming a programme about bear safety and put the affable canoeist out of action for a month. When I came over to film with him, he was back less than subtly with his red canoe covered in white maple leaves, like a gigantic amalgamation of Canadian flags! The best selling author is a lovely funny chap who likes the canoe as a means to get into wilderness. He believes strongly that people should use it or lose it. We filmed at the famous Barons canyon in Algonquin park and on the Madawaska River."
...and some more highlights she sent me are:
5 times National Champion in Interpretive Freestyle Canoeing, Karen Knight, is recognized internationally for her paddling finesse and precision. A "ballerina on the water", Karen performs one of her stunning solo freestyle routines. Her partner, Bob Foote (recently named one of paddlesport's 100 heroes) joins her for a graceful tandem performance.
Becky Mason has spent much of her life perfecting the art of solo paddling a Heritage red cedar and canvas canoe. She takes inspiration from her natural surroundings to paint beautiful watercolours. Becky took Justine to one of her favourite local paddling spots, Quebec's Lac Vert and talks about her passions for paddling and art and the influence of her father, the legendary canoeist and filmmaker Bill Mason. Top Canadian whitewater canoeists Paul Mason, Mark Scriver & Andrew Westwood rip it up on some of their favourite rivers.
An incredible whitewater canoe trip down the amazing Mountain River with Blackfeather's Wendy Grater. John "Kraz" Kasimierczy is the fastest open boat racer ever with an incredible 101 national first place titles in slalom, downriver and marathon. Nominated a 'paddler of the century', he has dominated the sport of open canoe slalom for the last 20 years. Justine filmed Kaz at the 2009 national open boat slalom championships, where he won his 100th first place medal.
Erik Simula spent the summer of 2009 paddling 1,000-miles across the Minnesota Arrowhead in his hand-made birch bark canoe, with only his dog "Kitigan" for company. Following traditional trails Erik lives off the land as much as possible, fishing, and eating wild rice for food.
Ray Goodwin blazed the trail in the UK with the open canoe. He completed the first complete circumnavigation of Wales and the first unsupported crossing of the Irish Sea. He also accompanied TV survival expert Ray Mears down the Bonnet Plume River. Ray takes us canoe sailing on Bala Lake and sea canoeing.
Hailey Thompson is a name to watch. The 15 year old girl from Wisconsin has already made the US senior team for canoe slalom and is competing in the world championships in Europe in 2009. Despite the fact that the next oldest person competing is 21, Hailey won 4th place at the pre-world championships. Justine filmed Hailey at home, paddling in Wisconsin's north Lakes, winning medals in the open canoe slalom national championships and hope to have footage from the world championships decked canoe slalom.
Canadian Chris Cooper helms a 42-foot voyageur canoe, Spirit Dancer, around the turbulent waters of Great Britain. Justine filmed him on the beautiful island of Skye in Scotland, complete with bagpipes, castles, moody moors & deep fried mars bars!
A father takes his 4-year old son on a 4 day journey down the Petawawa river in Canada's Algonquin Park in the Fall. The biting chill of frost on the canoes is matched by the warmth of the relationship between Doug and his dad, Scott MacGregor. Accompanied by Kitty the cat and a Lego magazine, Doug is perfectly content in the bow of the canoe as they fish for musky and run some challenging rapids.
Crossing windswept Rannoch Moor in Scotland is probably THE classic British canoe journey. 2 experienced British canoeists guide the filmmaker and her boyfriend on this beautiful and challenging 3-day journey across loch and down grade 2/3 rivers. Justine used all the traditional skills of paddling, portaging, lining and sailing, and the novices manage to pin their canoe on a grade 3 rapid - but at least they filmed the epic unfolding!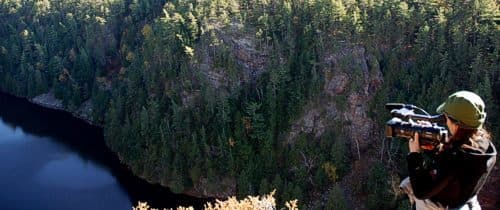 Kevin Callan is the author of 11 books including his latest "Wilderness Pleasures" and "The Happy Camper." A regular keynote speaker at major North American canoeing and camping expos for over 20 years, he has received three National Magazine Awards and four film awards, including top award at the prestigious Waterwalker Film Festival. Callan lives in Peterborough, Ontario, birthplace of the modern-day canoe.