Reactionaries are diagonal breaking waves or holes, and are a common phenomenon on big water rivers. Reactionaries usually form when water hits shallow sections or obstacles and is redirected towards deeper sections of the river. Learning to break through reactionaries is an essential skill that requires an aggressive approach.
Ideally you can break through a reactionary using the "boof" technique that was discussed in the "Managing Holes" segment, which lets you skip right over top of the break. Unfortunately, big water doesn't always let you do this. In fact, as opposed to making it over the reactionary, it's likely that you'll take a big piece of the wave in the chest. If you're not prepared for this hit, the reactionary will stop you dead and take you for a ride at its discretion.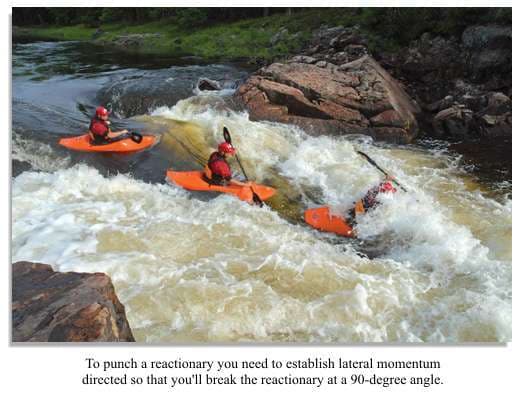 The way to prepare for this hit is by establishing lateral momentum directed so that you'll break the reactionary at a ninety-degree angle. Once you are lined up properly, your biggest concern is having water pile up on your stern, which would quickly send you into a stern squirt. To prevent this, you need to stay in a fairly aggressive position, tilt your kayak downstream slightly, and plant a powerful last stroke on the downstream side. This stroke will serve as a brace, while at the same time allowing you to pull yourself right through the reactionary.
Ken is a World Champion Kayaker and the author and producer of an award winning series of instructional kayaking books and videos. He was recognized by "Paddler Magazine" as one of their 'Paddlers of the Century'. For more information, visit www.helipress.com.
Photo by Paul Villecourt