If you've been whitewater paddling for any length of time, then there's a good chance that you'll have spent some time on the side of some river, picking lines through some nasty looking whitewater! Even though you have no intention of ever running the rapids, you draw upon your knowledge of how you can use river features to your advantage and pick out the lines you'd take if you were ever foolish enough to try. Or you may have looked at a drop and said to yourself: "There's a good line there, and someday someone will take it!"
I remember looking at a nearby massive, two-stage waterfall on the Coulonge River in Quebec, seeing the potential and thinking it might be runnable. The next summer, BJ Johnson and Willie Kern took the plunge and came out clean and smiling! The reason I bring this up is because the importance of this article has as much to do with discovering where our own personal lines are as it does with examining the actual rudiments of picking a line.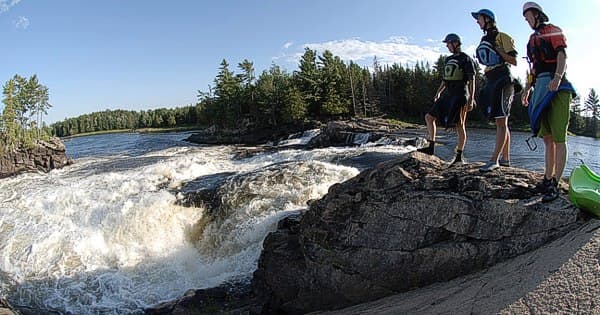 When picking a line through a rapid, it's important that you break things down into individual moves, all of which you are confident that you can make. You then need to look at how well these moves fall together as a sequence. It must be understood that your success in running rapids relies greatly on your ability to look ahead and take actions that set you up for the future moves that are required. If you focus solely on getting through one feature at a time without real consideration for the next move, then you'll find yourself running rapids in a defensive, reactionary mode. This is a scary way to run rapids, as you are never really in charge of your situation, and things can quickly snowball out of your control.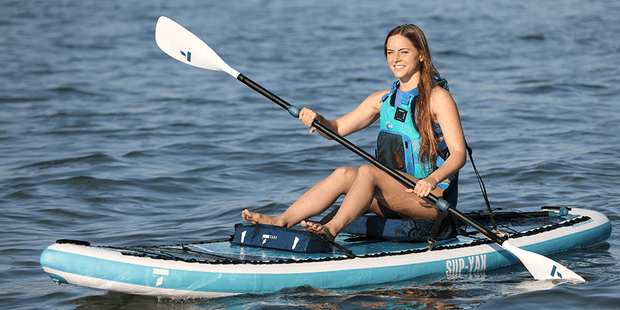 TAHE 10'6 & 11'6 SUP-YAK Inflatables
2-in-1 Kayak & Paddle Board complete packages for single or tandem use.
With experience, we can all pick lines through rapids, but understanding our own personal lines and limits is an ongoing exercise. You need to consider the reason you're on the water to begin with. You also need to be comfortable with the consequences of your decisions. Are you aware of and accepting the costs associated with missing a move and swimming through a rapid? How will your decisions impact the other paddlers in your group?
The bottom line is that picking a good line is something that you can learn to do very reliably, but making a good decision about whether or not to run a rapid is something entirely different. When picking a line, just remember to pick one that you are comfortable with, and not necessarily one that others think is easiest. We all have our own strengths and weaknesses, and this will affect how you perceive a rapid. Of course, this doesn't mean that advice from more experienced paddlers should be disregarded. A smart person will learn from his or her own mistakes, but the smarter person learns from other people's mistakes too! When deciding whether or not to run a rapid, you need to weigh a number of factors. Experience will help you make the right decisions, but even the most experienced paddlers need to continually ask themselves why they are there in the first place.
---
Ken Whiting is a World Champion kayaker and the author and producer of an award winning series of instructional kayaking books and videos. He was recognized by "Paddler Magazine" as one of their 'Paddlers of the Century'. For more information, visit www.helipress.com.