"Snow Melts to White Water"
"Snow Melts to White Water" has always been our motto - being skiers and avid river paddlers - we love our clearly defined seasons in Canada. As with any outdoor sport, the anticipated excitement must be balanced with a certain set of precautions we call the 'Golden Rules of Whitewater'.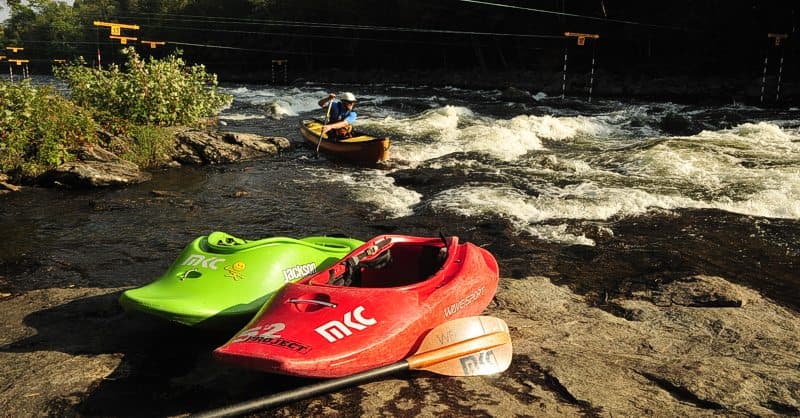 Having grown up in a paddling family, where at 3 years of age I jumped willingly into a Class III rapid to join my parents downstream, these Golden Rules have become second nature for me. To finish the above story, my parents had been so pre-occupied in making sure their cumbersome, yet precious 'white water folding kayak' - the craft of choice in the mid-sixties - completed the portage in one piece, I was momentarily forgotten on the island upstream. Wearing a lifejacket and already feeling at home in the 'current' environment, I trusted their advice, and floated down into their welcoming arms.
And here begins the list of important rules that need become second nature for anyone who plans to make the river environment their home:
1. Never Paddle Alone.
The internationally accepted number on any River Trip includes at least three people at all times. Thus if one paddler needs help, one can rescue, and the third is back up. If the rescue is anything more than a T-rescue or a bit of help swimming to shore, you generally need at least two people for a more technical rescue.

2. Dress for the Water, Not the Air.
Our 'Chinook-like' spring weather systems can be a teaser because they make the day feel like mid-summer, but remember that the snow has just melted, and the water is bitter cold. You do not last long in these conditions with out proper clothing. A dry suit with thermal layering underneath is the best option, with neo booties. It may take you minutes to get to shore if you capsize and swim. And even an Eskimo roll at these temperatures can give you such an ice-cream head ache that your senses will be momentarily 'frozen'- so wear a skullcap, as divers do, under your helmet. To enjoy the experience; 'pogies' are the brilliant creation to keep your hands warm, yet still having your own skin hold the paddle for that intimate relationship needed between hand and paddle.
3. Ease into Spring…
Always under-estimate your skill level when venturing out for the first time. Remember that it's been many months since your last time out, and your skills will be rusty. Best idea is to take a refresher course, under the tutelage of an instructor - you will start your season polishing up your technique under expert instruction, not allowing the 'old, bad' habits to impede this year's improvement and enjoyment on the water.
4. When in Doubt, Get Out and Scout.
Rivers can change over the winter months with ice and high water moving the shorelines, or dropping trees into the streambed; many dangers can arise without notice. When boat scouting, make sure you leave yourself at least two eddies downstream that you can get to. When eddy hopping is not an option, jump out of your boat to take a look from shore.
5. Have Fun!
If you're not wearing a smile, why are you out here in nature's most incredible playground?
---
Claudia Kerckhoff-Van Wijk is a ten-time Canadian whitewater kayak champion, and world bronze medallist. Claudia traded her zest for competing with her passion for inspiring those that want to venture into the exciting sport of whitewater paddling... that of running the family whitewater businesses; Madawaska Kanu Centre on the Ottawa River alongside her husband Dirk Van Wijk and daughters Katrina & Stefani.