My granddaughter used to ask a lot of questions...
My granddaughter used to ask a lot of questions. Now that she's been in school a while she doesn't ask that many. Why? Simple, she knows everything. In speaking with her and listening to her share her thought processes, I'm inclined to agree that she holds the answers to all the important questions. You can learn a lot from an eight year old.
I've been writing these articles for Paddling.com for over 7 years. There are times when I really feel like I have this thing figured out. But even after all my immersion in the sport I sometimes forget that there are still huge numbers of people joining our ranks, and even more that are curious about why we do what we do. Others simply want to know "what is the big deal?" All these newcomers have valid questions about the sport - questions that I simply assume are answered through exposure to the process. As ambassadors of the sport, we all need to have some answers ready. And in pondering the "whys" it will surely remind us deep down why we do what we do.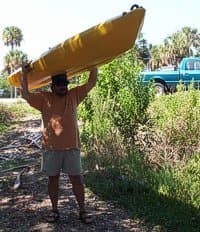 WHY SIT SIDE-SADDLE? WHAT'S THE BENEFIT?
For me, I have several reasons:
Tailgating. Maybe it's a football thing, or maybe it's a Southern thing. There's nothing quite like spending some quality time sitting on the tailgate of a truck. You can let your feet dangle while you enjoy your surroundings. On a kayak, sitting sideways enables you to reach items in the rear tank well that would be a challenge any other way.
Cooling off. When I worked on this article the heat index was almost 100 degrees. So when you're out on the water, it feels pretty good to soak the dogs, even if the water temperature is over 80 degrees.
Peer pressure. Let me introduce you to some of my friends that influence a lot of what I can and can't do these days. Those little friends would be the herniated/angered discs at C3-C6 and L1-L5 … otherwise known as my aching back. I peddle a Hobie now simply because paddling irritates these friends. Even at that, sometimes I simply have to change position and sitting side-saddle offers some relief. But, that soon wears off and moving back to the seat is the solution. This process gets repeated many times during the day.

If a picture truly is worth a thousand words, then let this one speak to you.

Protect that neck and back... do NOT do this! I used to be much taller.
4. Photo op. Let's face it - fish just look bigger when photographed from this side view.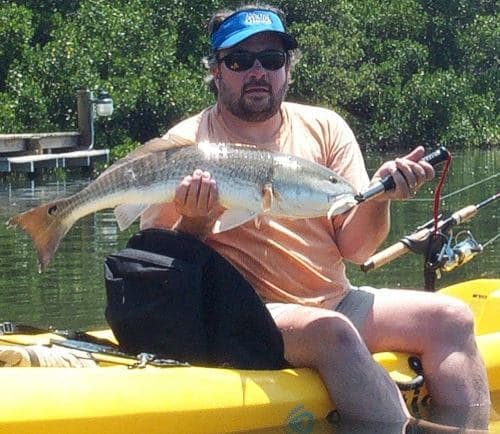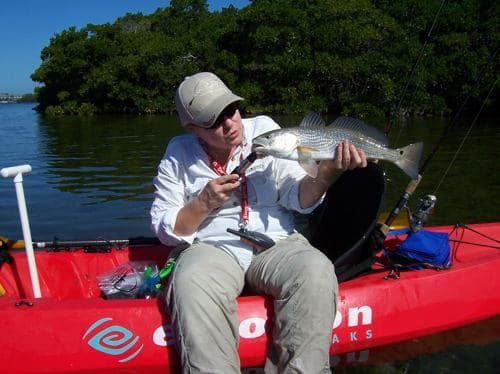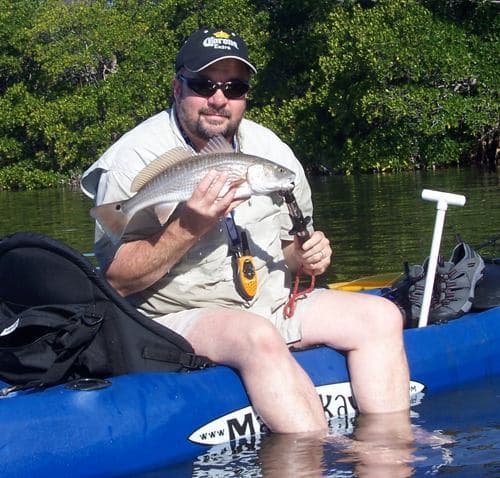 HOW (AND WHY) DO YOU MEASURE YOUR CATCH?
This can be a tricky one, because a lot of variables come in to play. Before we tackle the "how", let's ponder the "why". The "why" is simply to determine if the fish is long enough to keep. If you're not planning to keep a fish, there's no real need to measure.

As promised, the "how" is the challenge before you. You will need a somewhat flat area in which to lay out a measuring device, and depending on how your kayak is laid out, it may not be easy. For photo-release tournaments the actual length of a fish is necessary. So now you must catch the fish - measure the fish while taking a picture, and ensure that the nose and tail are in frame. The fish pictured below didn't meet the criteria (nose not visible) so the picture wouldn't have counted. And I did all I knew to get the money shot (even though it was far from a money fish).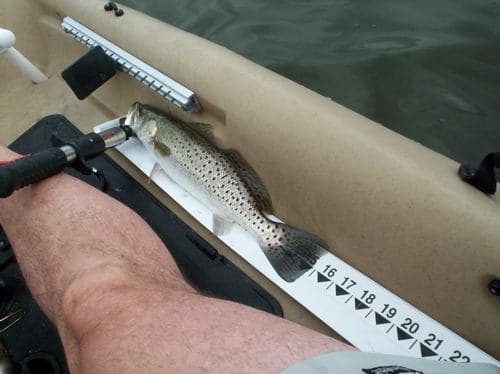 Most who fish tournaments build a "tray" that the fish will lay in, and is much easier to measure and photograph. I crafted this board from goodies from Home Depot. Then I used my Ram camera mount to secure it to the boat. It worked *ok*, turned out to be not sturdy enough, but the idea at least had merit.

For the normal non-tournament outings, I carry a piece of PVC marked with the legal length for trout, flounder, etc. Basically it's a go/no-go gauge. That's all I need to know about what I just caught, yes or no. This leads us to the next question …

HOW DO YOU KEEP YOU CATCH FRESH UNTIL TO GET BACK TO SHORE?
You must certainly start with the end in mind. Otherwise you may end up with fish slime all over your baloney sandwich. Obviously you need a cooler for your catch. Right now it's too hot to keep fish on a stringer, and in my part of the country, you may just be inviting a curious shark to check out your dinner. Most opt for ice, but ice melts and then your catch is soaking in water. I opt to use those reusable blue ice blocks, and I also put them in a zip-lock. The cooler stays cool, there's no water for the fish to float in, and when you get home you simply toss the bags. I admit I don't have a lot of experience here but the more I catch, the more I wish I'd planned to keep a few.
WHERE DO YOU KEEP ALL YOUR STUFF?
Now, I keep it where it belongs - AT HOME. I have finally learned that I most certainly can own the tackle store but I don't have to take it with me when I leave home. Here are two great examples of what NOT to do. Keep in mind on both of these outings I had a ton of gear, used only a fraction of it, and spent too much time messing with gear and not fishing.
Either it's too many lures …
… or too many rods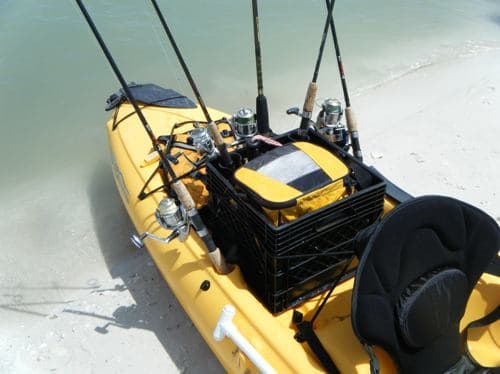 Either way, scale it down. Now, I carry 2 rods, and an extra reel in a ziplock bag (in case of a nasty wind knot, etc). The lures I absolutely use are on the rods, with extra jig heads, soft baits, and leader tucked in the center hatch.
THIS SOUNDS LIKE A LOT OF WORK - WHY BOTHER? Since I mentioned being with Paddling.com (back when it was Paddling.net) for quite a while, let's revisit the very first article. After reading it again, every word still rings true:
Fishing from a paddle-craft is just a feeling that can't be found anywhere else, provided you slow down and enjoy it. That will always be harder than it sounds. It will make even the most knowledgeable angler ask a more important life question … "what is my big hurry anyway?"
See you out on the water …
"Many men go fishing all of their lives without knowing that it is not fish they are after" ~ Henry David Thoreau