Compactible Gear for Paddlers
I had just spent what seemed like hours painstakingly loading my kayak at McCargoe Cove, Isle Royale. We had hand-lugged a week's work of gear and provisions from the ferry that had dropped us off at the head of this long, fjord-like slice of Lake Superior on the Ilse's northern coast.
After a final twist and a forced shove, I managed to wedge one last piece of gear down into the one remaining vestige of space in my aft deck hatch. I leaned back, exhausted - and jabbed my elbow into yet another bundle of gear. Ar-r-r-gh!!!!
Whether it's balancing out a load in a canoe or trimming out your kayak, the weight and space-consuming bulk of camping gear has always been a choice between "absolutely gotta have it along" and what has to be sacrificed. The more it can be folded, disassembled or otherwise compacted, the more likely are we to take it along.
Camping gear is the classic "break down" outdoor equipment. After all, our tents are little huts that fold down, our beds are mattress/blanket combos that roll up and our old Boy Scout or GI-issue cook kits are mini kitchenware all nestled together. We have folding kayaks, canoes and small motorboats, as well as 220-cm paddles that break down into arm length sections. Rafts and paddling boards inflate, bicycles fold and stoves unfold Transformer-like. We slide little toolkits onto our belts in the form of Leathermen™ and other multi-tools - and more cool and compacted stuff is being introduced almost daily.
Oftentimes it's a craze or fad that breeds new gadgetry. Look at the growth in popularity of kayak fishing. It's its own industry now, and has given rise to myriad gear, gadgets and gimmicks that are now firmly established members of the outdoor collapsible equipment family.
Take anchors for example - the weight issue alone is a major negative. Just stowing those clunkers on your kayak deck or in your canoe is a cumbersome necessity. No so for Squid Anchor's PORTABLE ANCHOR, whose defining component is a 'pouch' that folds up into itself when not in use, and quickly becomes fully functional when it's flanges are extended and rocks or other ballast is loaded into its nylon sack body. It holds its own with a big reduction in weight and stowage.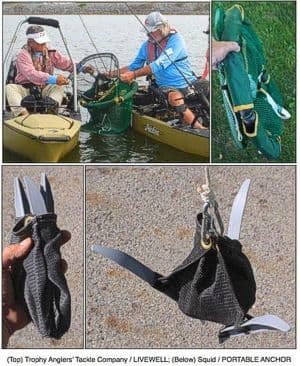 Every paddling angler should appreciate a live well to keep their catches fresh and feisty for as long as possible. Trouble is, there's no room for a live well in most kayaks or canoes. Sure, stringers work, but they take their toll, too. The WindPaddle's FLOATING FISH NET provides a floating net basket to keep your catch alive. Compacting to stow on deck, the Fish Net floats conveniently right beyond the gunwales of your boat when deployed. The Trophy Anglers' Tackle Company's LIVEWELL is a light weight, low-impact, collapsible fish keeper that floats alongside your boat for immediate access and also lets you troll with it at low speeds. It's easily adjustable for different situations (like being fully submersed dockside or at an extended anchor spot). It, too, collapses down for lightweight storage on your deck or in your canoe. Both the Fish Net and LiveWell are easily worked with one hand during a catching frenzy.

The biggest notable advances in collapsible gear are probably in the camp kitchen. Here's a brief overview of all sorts of clever pieces of foldable/collapsible/compactible food and cooking gear especially well suited to paddlers.
A solid, level surface is handy for so many camp tasks. GSI Outdoor's MICRO TABLE is a "lightweight technical platform" that opens up from its compact folded form into a stable 15.5" x 11.25" table capable of supporting up to 20 lbs. Designed presumably for camping, I found that it also straddles very nicely across the foredeck of my kayak. Held in place by a deck bungee, it becomes a convenient working platform for rigging fishing gear or perhaps as an onboard dinner table for prepping steamer meals in a pouch. Since it wasn't intended for such deck use; it's legs can scratch your kayak unless you pad their edges (duct tape?). It might work quite well as a raised platform off the floor of your canoe, too.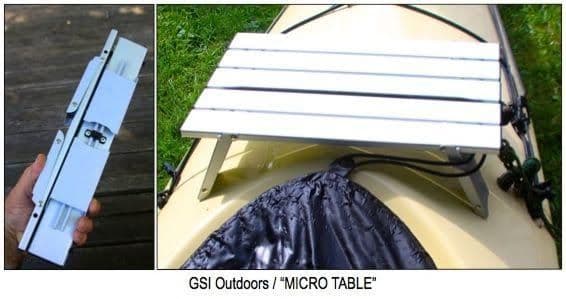 Divvying up portions for your own diet/nutrition control to carry with you has been made simpler thanks to Smart Planet's PERFECT PORTIONS' 1, 1.5 and 2-cup compartmented containers. An additional and nifty feature on some of their collapsible dishes is a small, separate condiment well built into the container cover. It has its own sealable lid - handy for bringing along a favorite flavor enhancer. When emptied, they compress down to about half their full volume.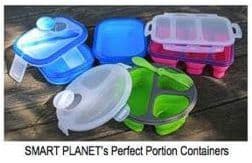 Sea To Summit's cooking pots, pans and kettles are a good example of how technology is being utilized in the outdoor recreation industry. Their XPOT KETTLE, like others in this type of compressible cookware, uses food grade silicone for the body of their cooking vessels and anodized 6063-T aluminum for the heating base. Many pots are designed to fit inside others, an additional benefit of compressible gear. The XPot Kettle, for example, squishes down to only 1.4" inches for packing away.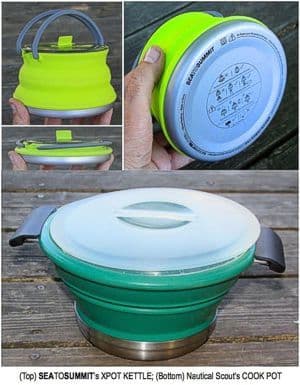 Nautical Scout offers a full line of silicone "COOK POTS" of various sizes that conveniently compress into easily stowables, all designed to fit into the tight spaces in a boat's galley - and so therefore - a kayak's hatch.
Silicone-sided pots cannot be used over a campfire; flames overlapping up over the base onto the silicone will damage the pot. As such, these pots are restricted to use over a controlled and contained conventional cooking heat source only.
Bottles (plastic/glass/metal) take up a lot of space when empty. How convenient if you could just fold or roll it up and stash it in a flap pocket? The collapsible bottle is here! Both Vapur's ANTI BOTTLE and GSI Outdoors' HIGHLAND FIFTH are among the latest in a growing presence of liquid containers - folding bottles if you will - that can be compressed in their empty mode. Flexible and freeze friendly, they are extremely durable, yet light weight "bottles" suitable for every use as are their rigid counterparts.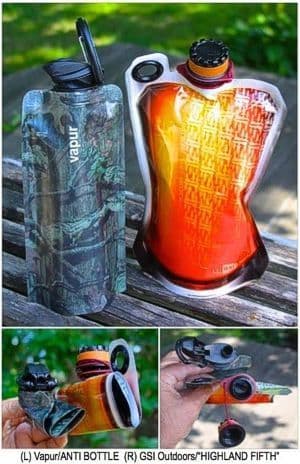 The 'Anti Bottle' features a convenient flip-open drink/pour spout (which unscrews for a 1-inch diameter opening option) with a carabiner-style loop while the Highland Fifth, a voluminous 25-ouncer, sports a more conventionally tethered, 1-inch wide screw cap.
There are numerous "folding cups" and even chintzy stemmed glasses on the market, but the award for shear chicness and style goes to GSI Outdoors' NESTING RED WINE GLASS. Made of high-impact, crystal-clear BPA-free co-polyester the stem unscrews and can be clipped into place within its 15 fluid ounce wine glass body. Two other wine glass options (including a metal one) all make for classy campfire sipping instyle.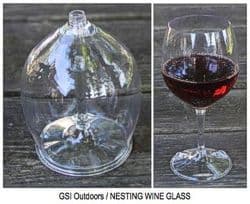 Once your meal is cooked, whether it be a modest pot of steaming re-hydrated noodles or a banquet class picnic table spread, there's the continuing annoyance of keep the flying/crawling pests off your food. Nothing worse than spending your entire meal swishing flies away from that casserole or dessert pie - or even your campfire-cooked peach compote cooling in the pot on a nearby log. Stylish Camping has you covered, literally. Their FOOD COVERS provide a variety of tight-screened mesh canopies in different sizes and shapes. A springy, spiral wire-framework lets you compress them down to a thin disc for storage. Unfasten the clip and they can be sprung/twisted out to full size covers for plates and platters and even a few oddball sized food trays/containers (The Play Hut model cover is over 19" x 19" x 11" high). A few of the smaller covers could be stowed in your kayak/canoe in anticipation of an invading squadron of bugs at a shoreside meal stop.

Lastly, the ongoing arguments for/against the almighty, and perhaps infamous "spork" may be upstaged by compact/combo utensils. Some kits mentioned above include token utensils that fold or rotate into functioning form but they are often too small or flimsy, and thus too frustrating to use.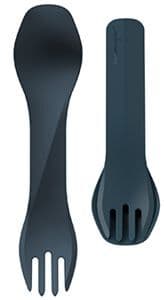 Humangear's GO BITES are a series of progressive utensil options made of sturdy formed BPA/PC-free nylon and respectable in size. The 'UNO' features u-shaped tines for a scrape-spoon option; the 'DUO' provides both a spoon and fork with handles that slide into each other: in the same direction for compactness, or end to end for an extension for reaching down into wide-mouthed containers. Their full set is the 'TRIO' packet of spoon, fork and serrate-edged knife. All are conveniently combined in a handy snap case that also includes a formed-in bottle opener and a toothpick caddy!
The utility and convenience of compact gear is making everything from minimalist camping to space-critical, extended solo kayak trekking a bit more manageable. Collapsible gear also enables us to enjoy more creature comforts during our trips.
There are pros and cons to every product. Even the best wunderkind gear has its drawbacks and limitations. I personally find it best to be prepared by carrying along gear that is multi-functional, especially critical in emergency/self-reliant situations. If gear is too specialized, too limited in it's optimal utility, it's got little additional value beyond its primary use.
Today's compact and collapsible gear makes it even more possible to sit back and appreciate a cozy level of creature comfort, and provide one's self with hard-earned and appreciated casual time around the campfire.

Tom Watson is an avid sea kayaker and freelance writer. For more of Tom's paddling tips and gear reviews go to his website: www.wavetameradventures.com He has written 2 books, "Kids Gone Paddlin""How to Think Like A Survivor" that are available on Amazon.com.