We'll take a look at the kit that I often choose to carry that I can access while afloat. This setup is for single-day trips, paddling relatively short distances into challenging conditions with reasonably experienced kayakers. My sea kayaking coaching work in North Wales has specific demands which are reflected in the equipment choices I've made here. I'm often in areas of rough water with limited immediate landing options. The challenges are mainly a result of conditions are flows where I'll need to have solutions to safety issues. Some of the kit needs to be available afloat and it's important that everything is secure in rough water. I don't set up my equipment in exactly this way every time but prefer to make decisions according to the factors that are present each day. The setup shown here is simply one example.
PFD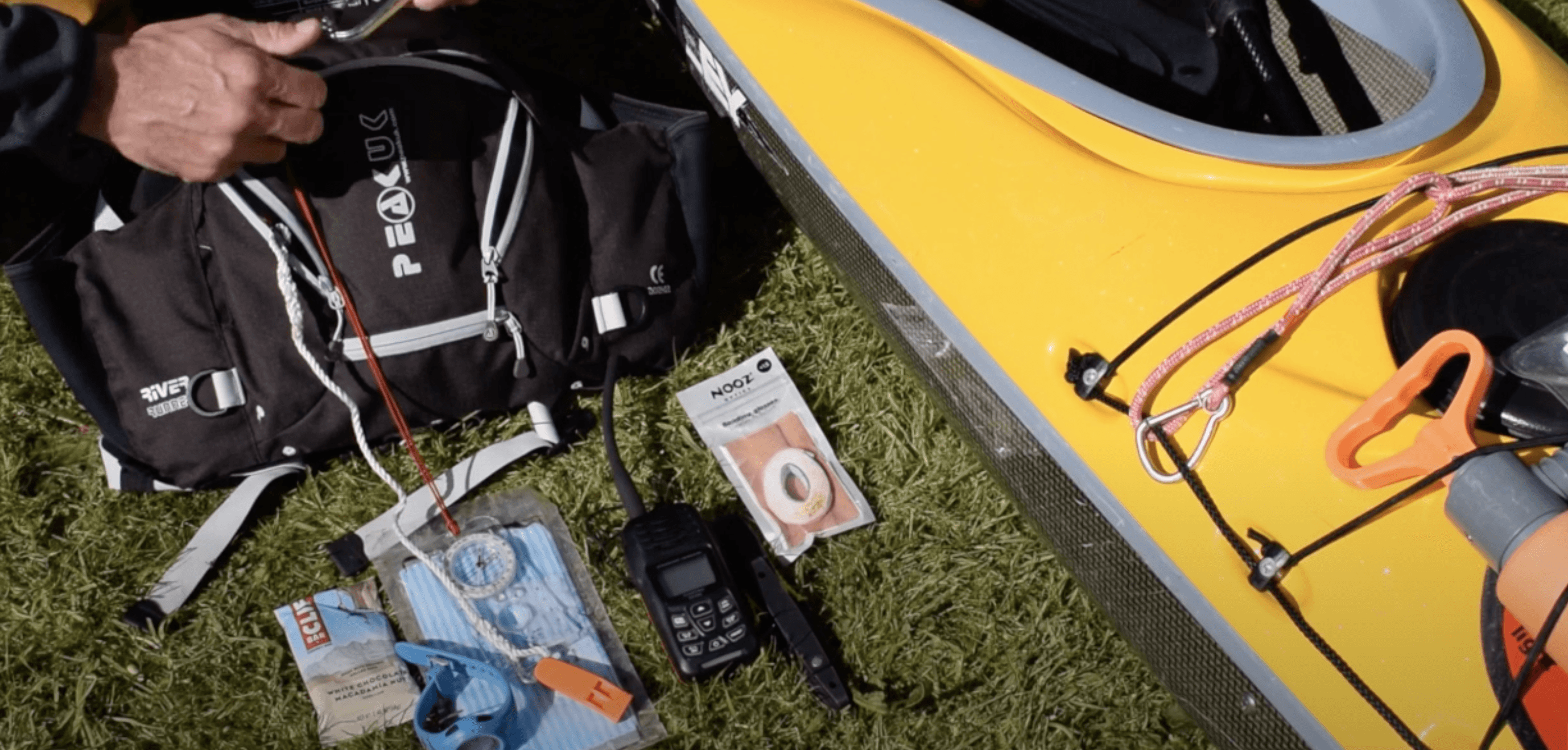 In my PFD I usually have the following items:

VHF radio this one is waterproof and floats,
a piece of repair tape to stick to a wet boat,
tape for a blister or a minor cut,
a handheld compass,
an energy bar,
an emergency whistle,
a marine quality knife,
a waterproof watch,
and a spare carabiner for various uses.
My PFD fits well and is secure when swimming in rough water. It can carry my kit it but isn't bulky. It's comfortable to wear all day without affecting my performance. I choose not to carry the extra weight of a hydration system. And I've also got a waist towline.
Deck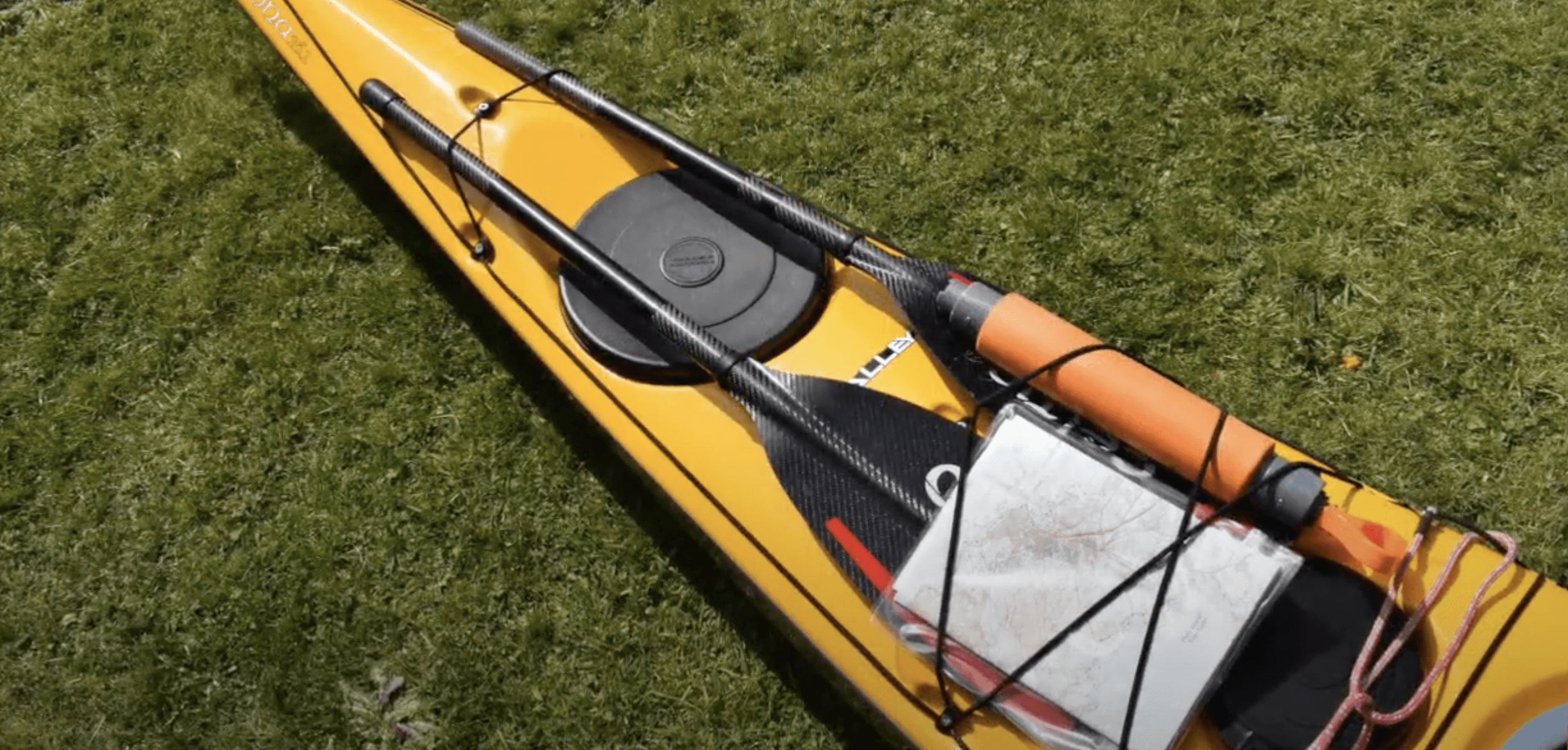 On my deck I carry:

split paddles securely held on the deck elastics on my front deck,
a map or chart with planning notes in a small map case that I can stow in the day hatch at any time,
And a hand pump under the front deck elastics. This is essential for me as I often have rough water rescues without immediate access to an easy landing.
This design is secure on my deck and doesn't need a lanyard to keep it in place. I also have a simple contact tow system.
Fourth Hatch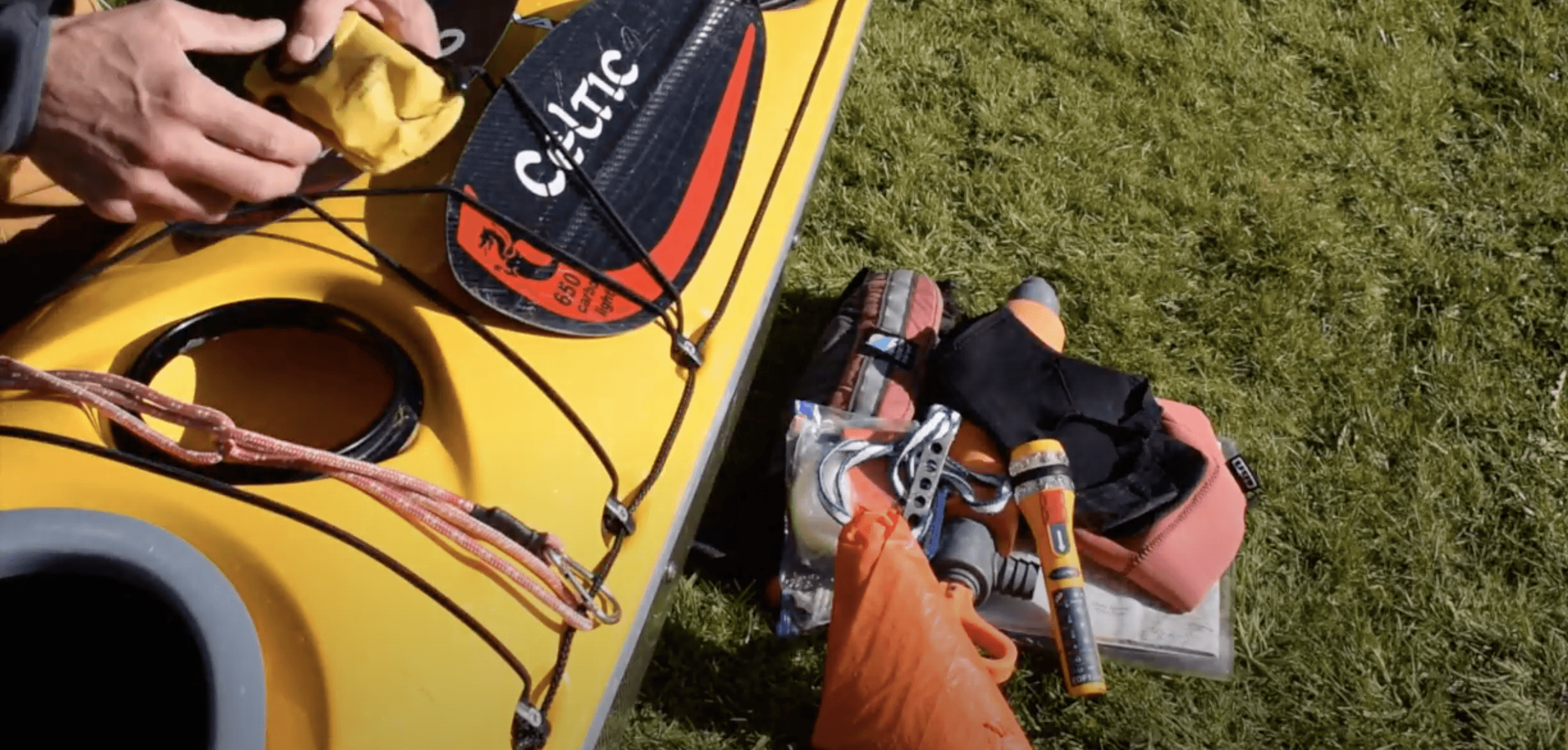 In the fourth hatch on my front deck I often have the following items:

Back Deck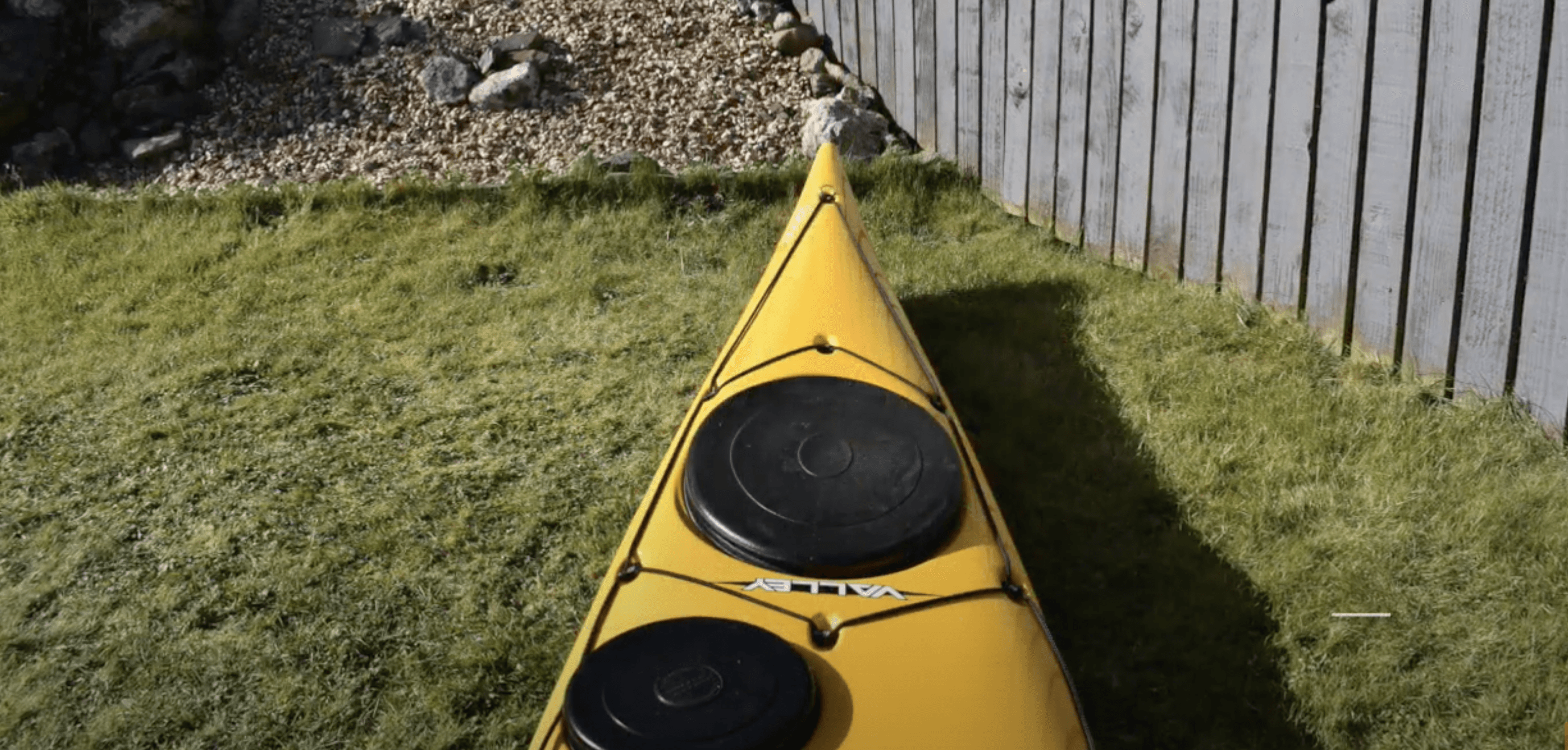 I keep the back deck at my kayak free from clutter to avoid tow line issues and to simplify rescues and self rescues.
Day Hatch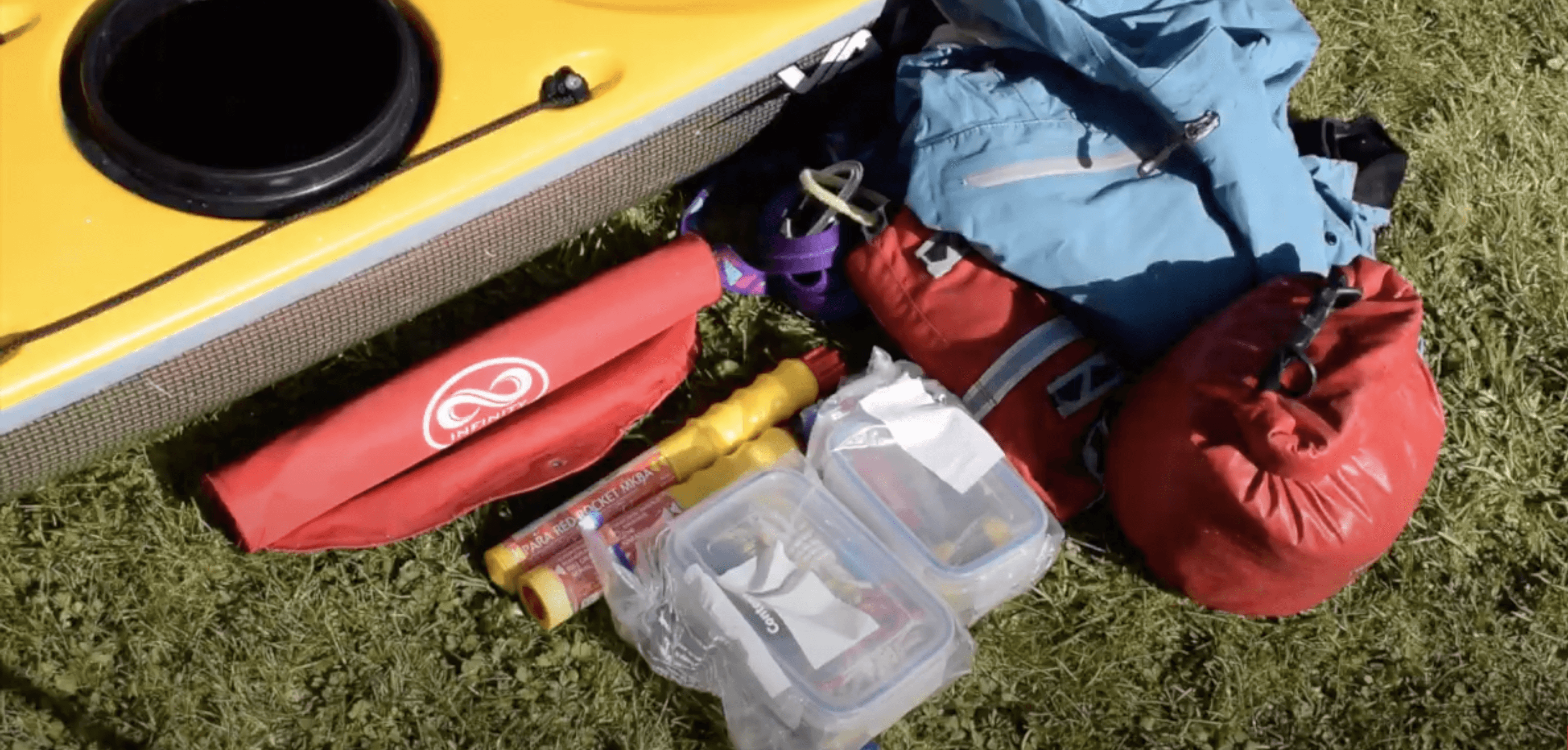 In my day hatch I've got:
a parachute rocket flare and an orange smoke flare,
a long sling,
a large airbag that can be useful for a halt boat,
a double XL storm jacket that will fit most group members without removing the PFD,
a larger repair kit for shore based use,
and an insulated foil bag for emergency situations.
I also keep food and drink in my day hatch and some additional safety kit.
So there it is, a breakdown of the typical kit that I carry and the places I stow it for working days in my local sea kayaking environment. It's a flexible personal choice that I modify from day to day. It's compact functional and covers the common and important issues of float. It's unobtrusive, is not excessive, and lets me work effectively as a sea kayak coach and guide.
Video provided by: Kayak Essentials - offering high quality training courses, events and resources