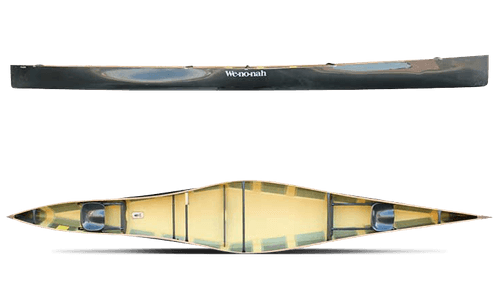 Jensen V-1 Pro Options
Jensen V-1 Pro Description
In the world of professional canoe racing Gene Jensen's V1-Pro has dominated the pro-canoe race circuit throughout North America since its introduction. While there are a few other pro models on the market, North America's leading pro paddlers use the V1-Pro for its speed and ability to maintain and keep a "pop" in shallow water. Pro boats are usually fully or partially decked with fabric covers to keep water out of the hull. And We-No-Nah often builds V1s with special options such as bow bailers for the demanding conditions of pro racing. Pro boats are not for everyone. They sacrifice initial stability for performance and speed. But, if you want to be competitive in the world of pro boat racing, you'll be paddling a V1-Pro.
Jensen V-1 Pro Specs and Features
Structure: Rigid / Hard Shell
Seating Configuration: Tandem
Ideal Paddler Size: Average Adult
Skill Level: Advanced
Ideal Paddler Size: Average Adult
Skill Level: Advanced
Read reviews for the Jensen V-1 Pro by Wenonah Canoe, Inc. as submitted by your fellow paddlers. All of the reviews are created and written by paddlers like you, so be sure to submit your own review and be part of the community!