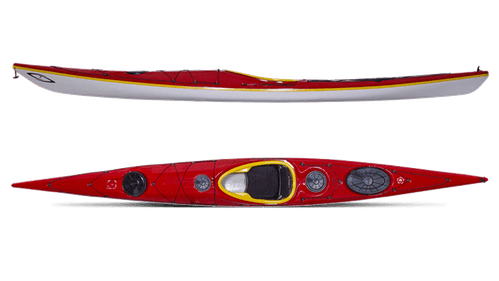 Prana LV Options
Prana LV Description
A collaborative effort between Danish designer Jesper Kromann-Andersen and Current Designs award-winning team, the new Prana touring kayak is as much at home in surf and rock gardening as it is to crossing a mirror-like bay. Available in fiberglass and Kevlar layups, the Prana is a quick and highly maneuverable kayak, with an efficient shape that chews through the miles.
Read and submit reviews for the Prana LV.
Prana LV Specs and Features
Structure: Rigid / Hard Shell
Cockpit Type: Sit Inside
Seating Configuration: Solo
Ideal Paddler Size: Average Adult, Larger Adult
Skill Level: Intermediate
Ideal Paddler Size: Average Adult, Larger Adult
Skill Level: Intermediate
Additional Attributes
Composite Seam
Retractable skeg
Composite Colors
Read reviews for the Prana LV by Current Designs Kayaks as submitted by your fellow paddlers. All of the reviews are created and written by paddlers like you, so be sure to submit your own review and be part of the community!
Current Design Prana LV,…
Current Design Prana LV, Kevlar layup (heavy duty): Excellent stability both initial and secondary, tracks reasonably well in quartering winds and going upwind, not as good as my Tahe Greenlander OC in following seas but that could be me as I have only had the boat for 1 and a half months. It's a fairly fast boat, easy to hold a good pace 3.5 to 4 knots. I love the comfort and forward volume of this kayak. An 8 hour paddle with a couple of stops was without the normal cramps in my feet and calves that I get in my It's great! Conditions so far have been calm seas (8 hr paddle) to 15 and 20 knot winds; 1.5 to 2 foot seas with an occasional 3 footer. I surfs really well in following seas, keeps on top of the wave, a lot of fun. I have not yet officially surfed in any significant conditions, but I think it will do very well! The Hd layup is heavy (50+ pounds).
I am a 68 year old…
I am a 68 year old intermediate women paddler. I have a variety of kayaks from 10 to 16 footers for a variety of different water. I even built a Pygmy Selkie. I love all my kayaks but for day or week tripping in Lake Michigan or Lake Superior the Prana has all of them beat. I love how it tracks, with a little adjustment of the skeg in strong wind wherever it's coming from, I can paddle with ease. The hull design allows me to edge with confidence, very good secondary stability. In the past I had not found a Current Design kayak that fit my body of 5'7, 145 lbs. They were too wide but when I get into the Prana it fits perfect. It's a Greenland style kayak with the back low so I'm able to lay back without any problem. I highly recommend the Prana if your looking for a fast, very maneuverable, comfortable, fun kayak!