---
A self-supported trip created by guest-paddler
---
Trip Overview

Starting at Allanwater Bridge, we paddled up the Brightsand and Kashishibog River systems over five days to the beginning of a 500-meter portage which took us to Redsand Lake and the headwaters of the Kopka River. For the next five days we'd paddle down the Kopka, subjecting our new Swift Dumoine kevlar canoe to more than a few scrapes and scratches as we tried to negotiate the late-season waters with as much grace and as little effort as possible.
The reward: a couple of days of the most stunning combination of river and rock that we have experienced in more than thirty years of paddling in northern Ontario. Now that awesome feeling of standing above and below the Missinaibi River's Thunderhouse Falls has some new company. Read on to find out more about what the Kopka has on offer!
How We Got There
For the second year in a row, we took the train! VIA runs The Canadian three times a week from Toronto through NW Ontario on its way to Vancouver. Canoes are welcome on the voyage for a fee of $50. VIA was having a 60% off seat sale in early July when we bought our tickets so for about $750. we got ourselves and the canoe there and back- not a bad deal considering it is 1800+ km to the starting point!
There had been other paddlers on the train with us- one party of four actually got off at Armstrong Station to meet up with their outfitter. They would be setting off the next morning on a trip that would include the Kopka from Lake Kenakskassis on down. The other group got on at Armstrong Station and then off at Allanwater Bridge with us. Instead of the rented cabin option (or tenting on the Lodge property for a fee), they found a clear space on the other side of the tracks from where we had debarked. When I went to see how they had fared the next morning around 8:15 they were all but gone.
Day One: 20 km. over 5 1/2 hours
From Allanwater Lodge to a small island camp in the narrows just south of Antler Lake
As we paddled south on McEwan Lake we spotted the first of many eagles that we would see during our trip. It has become a bit of a tripping joke but we always interpret this is a good omen, imagining that Zeus is keeping a close and caring watch over us as we glide through his world! If nothing else, it's a clue that we're paddling somewhere approaching wilderness - never a bad thing!
For the first five days we didn't have to worry about running rapids of any class, given that we were going upriver. We lined (apparently the correct term is "tracking" when you're heading upriver) when we could and portaged when we had to; all in all, it wasn't that big a deal and the paddling was quite enjoyable.
We picked an island in the narrows just south of Antler Lake as our Day One campsite. It would be the first of three islands in a row as we made our way to the Kopka headwaters at Redsand Lake.
We got to our camp site at about 3, having spent 5 1/2 hours paddling and portaging. Les, a paddler in one of the other canoe parties on the train, had proposed 4 km per hour as the typical speed that most groups average out to. We had a chuckle when we did the math at the end of the day: Les' Theorem worked!

Day Two: 21 km. over 5 1/2 hours
From island camp in the narrows just south of Antler Lake to island camp at north end of Harmon Lake
As we paddled to the north end of Harmon Lake, we met in one thirty-minute period all the people we would see for a while five motor boats with two or three people in each. The fishing was great, they told us as we paddled by. The next time we saw anyone was eight days later on the far side of the Seven Sisters section of the Kopka below the third set of waterfalls.
We contented ourselves with day after day of eagles, hawks, ravens, loons, ducks and assorted waters edge life like otters and beavers. Not seen at all were caribou, moose, bear. Camp visitors were limited to the occasional chipmunks. Most evenings we hauled our food pack 10 feet up some tree branch (although I must admit that it sometimes seems like something we do just because we have always done it).
An expected but still painful experience was seeing the growing collection of scratches and scrapes on our brand-new kevlar canoe. Perhaps an earlier trip date may have resulted in less contact with the just-not-quite-submerged-enough rocks we almost slid over. As we paddled those first couple of days, I saw a newspaper headline in my mind- "Geologists Find Major New Kevlar Deposits in NW Ontario". Not too far into the trip we accepted that the experience of being there was worth a lot more than the scrapes that made us wince whenever we flipped the canoe over at the end of the day. Besides, we now have a little gel coat repair project this winter as we get ready to scrape it again. A massive plus on the portage trail is the 42 lb weight of the canoe. The end section of the infamous Mountain Goat Portage would be (absolutely no lie!) at most a five-minute piece of cake!
We got to our "okay" campsite around 5 - it was a breezy spot with a nice flat rock lounge area. The tent itself rested on some moss-covered rock; the Thermarest pads (a NeoAir and a Prolite 4) definitely make the ground a non-issue. Well, almost. One side of the tent had a bit of a root sticking up and we had to reach under to do some surgery.
Day Three: 31 km. in 8.5 hours
From island camp at north end of Harmon Lake to island camp 2 km east of the Graham Road on unnamed lake (part of Kashishibog River system)
We reached the day's camp site - another spot used by nearby fishing lodges when doing a camping overnight with their guests?- after some tough afternoon paddling into a SW wind that was whipping up the water. We had misread the portage info taking us across the Graham Road and ended up portaging 200 meters on another trail instead of the 50 or so had we lined up the first stretch of rapids to the bridge.
The island campsite had tables and shredded blue tarps were tucked under them. A 30-meter trail led from the fire circle and the camping area to a toilet sitting above an open mound of shit and paper. It definitely was the underside of the camping experience!
Day Four: 9 km.
From island camp 2 km east of the Graham Road to rough camp on E side of Sparkling Lake
Perhaps if we could do this day over again we'd do it differently. Instead of paddling along the eastern shore that we ended up on, we'd cling to the western shore in hopes of getting more protection from a very strong SW wind. As it was, we were definitely shaken by the 1 1/2 feet swells and whitecaps that we needed to cut across to get to where we wanted to.
We finally went with the waves as they pushed us on the sandy shores of a small bay. We waited for a while, hoping that things would settle down but it eventually became clear that the day was over. Amazingly enough, we found a sheltered-from-the-wind and not-bad flat area for our MEC Wanderer 4 tent (all 8′x8′ of it) and settled in for the day. While we hate sitting around we certainly didnt want to deal with the consequences of sitting in the middle of a wind-whipped lake with an overturned canoe and sunken packs. The food pack that night was tucked away on the beach some distance from the tent. We didnt have a chance to think about canoe scratches this day!
Day Five: 14.5 km.
From rough camp on E side of Sparkling Lake to Redsand Lake camp on E point
We left our previous night's camp by 7 a.m., intent on putting in 10 km or so before breakfast. We stopped at the top of a scenic set of rapids on the Kashishibog- the last set before the portage into Redsand Lake itself. It was already a bit windy and the canoe acted as a bit of a windscreen as we enjoyed my brother's favourite filtered Kenyan AA coffee to wash down the oatmeal/berries/chia seed breakfast concoction we usually have.
The 500-meter portage from a small bay on Kashishibog Lake took us into the headwaters of the Kopka River. From this point on we would be paddling with the current!
Unfortunately, the very strong NW wind presented us with a more immediate challenge- just getting to the campsite on the east side of the Redsand Lake as you paddle NW from the end of the portage trail. We dug in hard and after quite the effort (and keen awareness of the danger) we managed to pull in at the campsite. Up went the tent; down came the rain. The wind continued to blow hard. Two rough days in a row and we started to worry about making it to the end point on time if the wind didn't let up for a day or two. Up ahead were almost 50 kilometers of mostly lake paddle to do before we got to the north end of Uneven Lake. A NW wind would make that a real grind.
Day Six: 47 km.
From Redsand Lake camp to camp on W point at N end of Uneven Lake
We were on the water by 7; there was little wind and the water was calm compared to its state twelve hours before. Parts of our early-morning paddle seemed almost dreamlike as we made easy progress across cloud-speckled Siess Lake.
We finally stopped for breakfast about 15 kilometers later on a point half way between Siess and Waterhouse Lakes. The sun was shining; it felt great to be moving.
Not having to do a half-dozen portages in a day will definitely increase your kilometer count. We continued on, paddling down Waterhouse Lake, across Gaal Lake, down the southern piece of Uneven Lake, and then after a bit of narrow-river paddling, back to Uneven Lake (the northern piece). Almost is if to remind us that we were not masters of our own fate, the NW winds made this last stretch "interesting". We paddled close to the shore once we crossed the bay with the outpost on it. (There was no sign of anyone there.) A while later we were at the campsite on the west side of Uneven Lake about three km N of the outpost.
The day was done and we felt great; we had managed to win back our "spare" day for possible future use and the day's paddling had actually been quite enjoyable, given the closed-in feel of stretches of the river. We'd be getting even more of that the next day- with twenty sets of rapids thrown in as a bonus!
Day Seven: 24 km. over eight hours
From Uneven Lake camp to camp on island of lake just east of Sandison Lake
A delightful stretch of the Kopka greeted us this day, different from the 47 km of lake paddle that characterized the previous day. "Delightful" because until you enter Sandison Lake you are always aware of both river banks; the scale of things is just right. It would have been even more agreeable with a bit more water but you take what you get. I'm glad we didn't miss out on this part of the Kopka experience.
We stopped for the night a couple of portages east of Sandison Lake. The campsite was on the NW point of an island on the small lake. A bit of site rehabilitation was required- eg. clearing of deadfall. Below the tent site was a small bay and behind us lots of deadfall. At my insistence the food bag getting lighter every day by 4 pounds! went up again for the night.
Day Eight: 17 km.
From camp on island of the lake just east of Sandison Lake to the waterfalls camp at top end of a 50-meter portage.
When we came across a camp spot at the top of a pretty little waterfall, we decided quickly that our day was done. We had actually planned to paddle a few more kilometers but figured the chances of canoeing into a second site as perfect as this one were remote.
It was 2:30 on a beautiful, sunny afternoon and the location was perfect for lounging and rambling around, as well as pitching a tent and washing up. We'd also get to play with the dslr camera gear that had spent too much of the trip hidden away from the realities of a canoe trip. There was a fifty-meter portage to get around the waterfall but that could wait until the next morning.
This camp site may have been our favourite of the whole trip, helped of course by the weather and the stunning sunset we got to watch.
Day Nine: 18 km. over 5 hours
From Waterfalls camp to Kopka camp on lake between 2nd and 3rd Falls
We left our idyllic camp at 8:30 and before 10 we were on the other side of the 400-meter portage at the north end of Lake Kenakskaniss, a bit apprehensive about potential wind problems on the lake from the SW. The SPOT Connect data shows that a bit over an hour later we were getting close to our first and longest portage (750 m) in the Seven Sisters section of the Kopka. We had been spared the energy-sapping challenge of paddling down the lake into a headwind.
We had to laugh when we saw the "This is not the portage! Keep on going!" sign above a set of swifts as we left Kenakskaniss and headed for the first and longest of the portages around the Seven Sisters. A few minutes later we reached the actual portage and less than thirty minutes later were sitting at the far end with our canoe and packs, thinking back at the portage trail.
In my mind a movie played of a drunken Cyclops not obeying the gods' request to make a nice pilgrims' path to the falls and instead carelessly throwing boulders here and there and thinking that would be good enough. "Besides, who comes down here anyway?"
Luckily for us it was not a rainy day as we passed through. It would have been a bit more slippery in our no-grip Bean Boots had it been. Our one regret is not having gone back to see exactly what it was we had portaged around. We did not make the same mistake for the portages around the three dramatics sets of falls coming up.
If you're wondering about the "Seven Sisters" label, a note on Ken Kokanie's Kopka maps provides a nice explanation: "the canyon portion of the route is made up of gruelling portages (poor footing and steep inclination or declination) that avoid a series of 7 severe drops in elevation". The topos show an elevation of 1245′ for Lake Kenakskaniss and an elevation of 1030′ on the Kopka beyond the last set of falls. That is a 215′ drop over at most a two kilometer stretch. This fact makes the Seven Sisters stretch of the Kopka River the most dramatic bit of Ontario river that my brother and I have gotten to sample in over thirty years of paddling in northern Ontario.
Our Day Nine campsite edges out the previous night's site for best site of the trip. It is located at the end of the second set of waterfalls on a beautiful small lake lined on three sides with up to fifty feet vertical granite rock face. According to the federal government topo map, the historical (but no longer existing) Mink Bridge Portage ended here.
The campsite itself is quite large and has room for three or four tents; the spot we chose was one tucked away from the shore and nicely sheltered from the elements.
Day Ten: 17 km.
From Kopka camp between 2nd and 3rd Falls to start of portage from Wigwasan Lake to Bukemiga Lake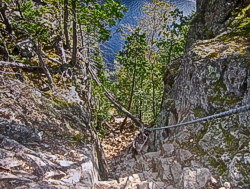 After a memorable bit of paddling around the shores of the little lake we headed for the last set of falls and the Mountain Goat Portage. The portage itself was pretty straightforward- well, until we came to the end. The image shows in a 2D kind of way what we had to deal with- a vertical drop of about 10 feet to a shelf and then a further drop of about 7 feet. From there the trail sloped fairly steeply down to the water. There are small steps to make use of as you go down the two drops but it is the ropes- apparently left by the Keewaydin Camp people (or some other Temagami teen tripping outfit)- that make the descent possible. We did the four packs and the bundled paddles first- Max went down a level and, each time I lowered a roped pack down to his feet, he lowered it down to the floor of the next level. In about twenty minutes the gear and paddles were on the shore.
Now we had to deal with the canoe. Amazingly enough it was down in five minutes at the most. Max came up to the top and I went down the first two drops- about 17′ and the length of the canoe. I grabbed the nose of the canoe as he lowered it on a rope attached to his end. When I was able to put my hands on the yoke I just flipped it over and onto my back and walked it down to the shore.
Now I know that I could not have done that with a 75 lb canoe; being 42 lb made it possible. It also didn't hurt that it was a sunny day and the ground and rocks were not wet and greasy; neither was wind an issue.
Our conclusion: the Mountain Goat Portage presents a challenge you don't often face but in the end it is not that big a deal.
Day Eleven: 7 km.
From Wigwasan Lake side of portage camp to take-out point at end of Bukemiga Lake Access Road
The start of the portage trail from Wigwasan to Bukemiga is obviously a popular spot with weekenders; there is room for a dozen tents. At the north end of the site were three overturned boats; the very messy toilet area 30 meters or so in the bush showed signs of heavy use. For the first time since Antler Lake on Day One we were able to use our tent pegs; all the other sites had no more than a veneer of moss or soil over rock.
We had a bit of time to kill when we got to the end point- well, six hours to be exact. It was a Thursday when we pulled in and there was no one in any of the six trailers In what seems like an unofficial trailer park at the end of the access Road from Highway 527 to Lake Bukemiga.
In retrospect, we should have camped the previous night at the beautiful campsite just below the third and final set of falls. Or we could have paddled a bit further down the Kopka- a few more kilometers down to Kopka Lake itself. But we didnt want to risk the possibility of being windbound on Wigwasan or Bukemiga and missing our take-out connection or the train the next day, so we had played it safe and camped at the start of the Wigwasan/Bukemiga portage instead. Therefore, a 1 1/2 hour paddle on the last day!
About fifteen minutes early (4:45) our Wabakimi trip fixer, Clement Quenville, arrived to transfer us to Armstrong Station, thirty kilometers north of the take-out point. The community of 300 is at the end of Highway 527 from Thunder Bay and it is also a stop on the VIA train route which would take us back to Toronto. (There are only three eastbound trains a week so if you miss yours it is a two or three day wait!)
We got to Armstrong at about 5:30 so we had that evening and the next morning to ramble around and visit Gail's Grill and Bakery for both supper and breakfast. A restaurant we had visited on our first visit to Armstrong - E&J's - looked like it was closed.
The next morning we moved our gear and canoe from the room to the spot by the tracks where the VIA baggage car would be stopping at the 9:50 official arrival time. Having heard stories of the train arriving early- and then leaving early!- we were there by 9:15. The fact that no locals were there should have been a clue to us. By the time noon arrived, local vehicles were starting to pull in! The train arrived shortly afterwards.

See my Wordpress blog for more pictures and more of this trip!

Resources:
The Ken Kokanie website is, as always, a goldmine of ideas for trips, as well as for info and maps. We found most the maps we needed for our trip here. I think it was this website that first made me aware of the Kopka River. And then it seemed to pop up everywhere - in Cliff Jacobson books, even in Kevin Callan videos!
I did also purchase a nicely detailed set of maps online from wabakimimaps.com, a site owned by Lawrence Mills of North Bay. He put together a map package of the complete route from Allanwater to the take-out point east of Bukemiga Lake. You can see them here. Last summer we used his Flindt River map set and were quite impressed with the format and amount of information provided.
Not used this year, but absolutely essential for our first two trips in Wabakimi country, were volumes 1 and 2 of the Wabakimi Project's map sets.

Trip Details
Trip Duration: Extended Trip
Sport/Activity: Canoeing
Skill Level: Intermediate
Water Type: River/Creek (Up to Class II)