---
A self-supported trip created by guest-paddler
---
Trip Overview
Catalina Island, A Kayak Fishman's Paradise
by Jason "jas" Morton

What an amazing trip! We left the Catalina Express Terminal at San Pedro at 10am and arrived at Two Harbors well before noon. Rolled the gear down to the end of the pier, consolidated our kayak and fishing gear from our bags, had a burger and a beer, loaded the coolers with ice and off we went.
The kayaks were already waiting for us at Cat Harbor on the backside via the Two Harbors Dive & Recreation Center. They have several kayaks but our available platforms of choice were their Ocean Kayak Prowler 15s (angler editions). They have six Prowler 15s, all of which come with rear and front flush mount rod holders, kayak seats and paddles.
We had heard of a recent halibut bite around Cat Harbor but decided to begin our 4 mile journey south to Little Harbor. The entire stretch is scenic and very fishy. The whole route can be done (weather permitting) in about 2 hours. Since we're fishing along the way it usually takes us about 4 hours.
There were plenty of calico bass caught along the way with fellow guide Jeff "Rhino" Krieger catching a female sheephead we had for dinner the following night. Along the route we ran into the guys from Booyaa Clothing fishing from their boat. They were in super tight to shore pre-fishing the Western Outdoor News white sea bass and halibut tournament. Apparently the fish had been showing in fairly good numbers, many being picked up close to shore.
Little Harbor is nature-made and protected by a reef which rises out of the water along the perimeter of the harbor entrance. The harbor is split into two areas by a small rock hill, Little Harbor camping on the north side and Surfer's Beach on the south side. The north side is totally protected with ripple waves rarely exceeding the 2-3 inch range. After landing the kayaks we headed to our assigned site to set up camp.
The Little Harbor campsites begin just about 75-100 yards from the waters edge and extend about a mile inland. Since the weather wasn't ideal, I was quite content staying in one of the sites a little further inland. The campsite was awesome! Lots and lots of room, amazing scenic views, our own water faucet for rinsing gear, a huge fire pit, 2 tables and one of the most hospitable rangers I've ever met. Firewood, charcoal, lighter fluid, propane and even batteries can be purchased via the Ranger.
After a long night of barbequing, beverage drinking and strategy building it was time to call it a night. Jeff assured me that the alarm clock was not needed because, whether we liked it or not, the birds were sure to serenade us a wake up call in the morning. Someone must have given the birds the day off, because we woke up unassisted. Our alarm clock this morning came in the form of a bit of anxiousness and anticipation of having a shot at the elusive white sea bass.
After some pressed gourmet coffee and oatmeal it was time to head out for a full day on the water. I believe Saturday was the official start of the WON tournament. A couple of boats entered in the tournament were fishing only a few yards offshore just in front of the Little Harbor campgrounds. I struck up a nice conversation with one of the guys fishing off the corner stern of one of the boats. He mentioned something about anglers catching halibut in super tight to the shore. I thought it was worth a few casts but our main target was white sea bass.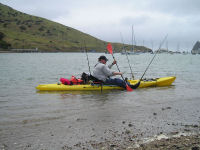 I believe it was on my second cast I nailed a plump female (halibut that is). It couldn't have been more than 2 minutes that went by from the time he mentioned halibut in close to the time I hooked up. Maybe 5 minutes later I was holding up a halibut by the gaff saying something smart... "Kinda like this one?" The fish was just shy of 3ft long and was caught on a 5inch Fish Trap purple chovy lure in about 10ft of water. Not a bad way to start the morning. We fished the area for a few more minutes before heading outside to work the kelp line for signs of white sea bass.
Jeff and I had discussed heading out to Farnsworth Bank, a pinnacle located 4 miles offshore. The yellowtail, a pelagic fish which can reach 70lbs+, and just about any other schooling fish seem to find their way to Farnsworth at one time or another. The conditions were fishable but the weather seemed a bit inconsistent and a little bit unpredictable to warrant the 8 mile roundtrip paddle offshore. We continued to fish the kelp for calicos hoping that it was just a matter of time before we got into some of the larger white sea bass we'd been hearing reports of.
Rhino points out that there are some birds working an area just about a mile north of our current position. I went into high gear and paddled straight out to the area, Rhino stopping just for a moment to tie on a MegaBait. With my irons still stowed inside the front hatch, I was only armed with a Fish Trap swimbait and a MegaBait LA Slider.
Upon my arrival the birds were sitting on the surface as the excitement seemed to have settled back down. I stayed quiet and motionless for about one minute as I looked around for Rhino's current position as well as any new surface action. Seemingly out of nowhere, the water erupted all around me. Huge yellowtails boiling 360 degrees around my kayak! I'm shouting to Rhino, more like shrieking as I begin to toss my available swimbait in front of, on top of and behind the school. I couldn't believe that I didn't have an iron rigged and ready for them. My heavier stick was rigged for live mackerel. The only problem being that we had yet to make bait. DOH! Needless to say, and you can see where this is going, there were no hookups.
Rhino missed the fury but had the right lure tied on. I made it to the fish but had not stopped to tie a more suitable lure like a surface iron. With all of the noise and turbulent water the yellows were kicking up, the lighter plastic swimbaits just couldn't get their attention. That was the last time we saw them come up. Both of us were kicking ourselves for not having an iron already tied on. Since I only brought 3 fishing setups and Rhino 2, we rethought our rigging. You have to be ready at all times for just about anything. With only a few rod and reel outfits available you need to certainly weigh your priorities. Our focused pursuit for white sea bass more or less compromised our preparedness for the yellowtail.
Another afternoon of bass followed by an effortless breakdown of camp and an adventurous paddle and fish back up to Cat Harbor. A weather system was coming in fast from the southwest so it was time to make waves, no pun intended. The wind was more or less at our back so the return trip required little more than some paddle strokes here and there to correct our heading. With about 2/3s of the route back to Cat Harbor complete, Rhino noticed a secluded beach and suggested we should investigate. What a neat little beach! It should be called "Lobster Float Beach" for the amount of floats that littered the shore. I didn't locate any buried treasure but the shore was filled with a variety of quartz and other neat stones.
Whether you go to Catalina via the guide route or experience it on your own, you've got to taste this place from the kayak angler's perspective. It's one thing to fish it from a boat just offshore and another to lodge, launch and fish from the island. Fishing is just one of the many activities available. The Island boasts world class Scuba diving, paddle tours, hiking and mountain biking.
The round trip boat ride from Long Beach or San Pedro is around $50/ea. You can go to Avalon or Two Harbors. Avalon is nice with a lot to do but is quite touristy. Generally speaking the adventure, as well as the fishing, is better via Two Harbors. You can fish either the front side or the backside of the Island. There is camping at Two Harbors as well as of course Little Harbor where we stayed for our previous kayak fishing excursion.
Cat Harbor and Little Harbor are connected by a thin stretch of land known as the Isthmus, the narrowest point on the island. It's truly amazing to me that you can walk from Two Harbors which is located on the front side, and end up at Cat Harbor on the backside a mile later. An awesome place so close to the mainland and yet it still feels like you're a world away.
Directions:
Get to greater Los Angeles area. Ferry service is available from San Pedro/Dana Point, Balboa (Newport Beach peninsula) and Long Beach.
Contact:
For kayaks and other activities contact:

Two Harbors Dive & Recreation Center

(Scuba diving, snorkeling, kayaking and mountain biking)

310-510-4272

www.VisitTwoHarbors.com
Lodging:
Banning House: 1-800-626-1496
Camping:
Two Harbors, Parsons Landing, Little Harbor
310-510-8368

Resources:
General Kayak Fishing info:

www.kayaksportfishing.com

Catalina Kayak Fishing info:
www.rhynobar.com

Trip Details
Trip Duration: 2-3 Day Trip
Sport/Activity: Kayaking, Kayak Fishing
Skill Level: Intermediate
Water Type: Open Water/Ocean