Trip Overview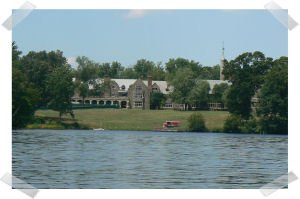 We arrived late morning and the parking area was already full of fisherman's trailers. The parking area will only fit about 10. We squeezed in and set out for a 4-5hr leisurely paddle. Make sure you read the regulations before setting out.
The weather was sunny, 80 degrees with 3-8 mph southerly breeze. Beautiful.
This large pond is surrounded by woods, private property and there are a few houses and docks around the lake, not to mention the beautiful St. Andrews School.
The first thing you'll notice is the long lines of buoys at the school end of the pond marking the rowing lanes for the competitions held here. Rowing clubs from all over the east coast come here to compete. You will not be allowed in when they are having competitions. Check with the school before traveling about the blackout dates.
You soon pass these and continue back through the pond. We saw Blue Herons, Great White Egrets, Green Heron, King Birds, fish, painted turtles and an immature Bald Eagle.
You can travel to the far southern end of the pond where it becomes very shallow and watch the fish swim through the clear water under your boat.
- From March 1 (or spring thaw) to June 30, the boat launch ramp will open on SUNDAYS only, subject to some blackout dates. Monday through Saturday, there will be no public access to the ramp.
- From July 1 to October 31, the boat launch ramp will be open on a daily basis, subject to some blackout dates.
Noxontown Pond is beautiful, uncrowded and quite place to paddle. Enjoy.

Accommodations:
Noxontown Lake is a privately owned lake, and is bordered on both sides by St. Andrews school. This is the place that "Dead Poets Society" with Robin Williams was filmed.

They allow boating here by the public, but can revoke permission, or prohibit your access at any time. They do not allow any boating either before dawn or after dusk. They have a groundskeeper that opens and closes a locked, fenced in area around the lake.
There is Porta Potty at the parking area and a concrete ramp for boat trailers.

Directions:
From Middletown take South Broad Street (Summit Bridge Road) south to Noxontown Road on left. Follow road about 1 mile over the pond damn to the fenced parking lot on the right.
Contact:
St. Andrews School


350 Noxontown Rd.


Middletown, DE 19709


1-302-378-9511

Website: www.standrews-de.org/
Trip Details
Trip Duration: Day Trip
Sport/Activity: Kayaking, Canoeing
Skill Level: Beginner
Water Type: Flat/Sheltered Water