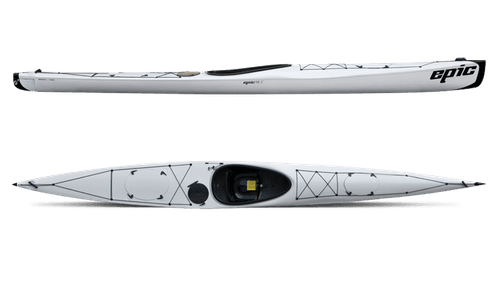 Epic 16X Options
Epic 16X Description
The Epic 16X offers a unique combination of stability, maneuverability, and speed that touring paddlers of all abilities appreciate. In addition to all of the great features that come standard on an Epic, the 16X includes the advanced Epic Track Master™ steering system, an adjustable seat, and front deck cutaways for a closer, more efficient stroke. Ample storage space makes the 16X an excellent choice for day trips and extended overnight excursions. This lightweight, sport-performance kayak weighs 41 lbs. in the Performance construction, and a mere 35 lbs. in the Ultra construction. The 16X offers the Epic Track Master Plus steering system and day hatch as standard items in the Performance layup. The Ultra construction has a day hatch option.
Read and submit reviews for the Epic 16X.
Epic 16X Specs and Features
Structure: Rigid / Hard Shell
Cockpit Type: Sit Inside
Seating Configuration: Solo
Ideal Paddler Size: Average Adult, Larger Adult
Skill Level: Beginner, Intermediate
Ideal Paddler Size: Average Adult, Larger Adult
Skill Level: Beginner, Intermediate
Read reviews for the Epic 16X by Epic Kayaks Inc. as submitted by your fellow paddlers. All of the reviews are created and written by paddlers like you, so be sure to submit your own review and be part of the community!
Sadly, this boat has been…
Sadly, this boat has been discontinued. I got hooked on paddling the 18X as a rental. When the time came to buy my own boat, I needed something shorter, and I found a used 16X. I love paddling this boat, and more than the 18X, it's extremely nimble with the rudder up and also also steers well with the rudder down. Many have cast aspersions on the gimmicky rudder, but I like the elegance of the design. Also, for whatever reason, the Epic seat just fits me... I've always had comfort issues in other boats. Love the hatches... never had any leakage problems and the day hatch is generously sized and works perfectly for easy access to water, snacks, a camera, and such. Now, for the bad... I bought my boat nearly new for about 50% of retail and it and at that price, I can't complain. I have loved every second paddling it. But had I bought it new, I'd be *pissed.* As other have noticed, the fit and finish is really sloppy. 1. Poorly sanded cockpit coaming that will destroy cockpit covers and skirts. I put some automotive door trim around the edge. Probably also could have sanded it myself but I'm lazy. 2. The rudder isn't centered when locked down. Doesn't really matter, but imagine buying a new Porsche with a crooked bumper. 3. The seat rails and foot board rails are poorly made. I don't do any rolling and don't plan to for a while, but I do wonder how the seat will hold up. 4. It's a real chore to adjust the foot board position while in the boat. I like to switch between knees up and knees under the deck, and I haven't found a single position that works well in both setups. I added a cord to pull so I can adjust the foot board more easily, but it's not perfect. 5. The backband adjustment is total garbage. My boat came with the older webbing strap backband. I added tri glides, but that made it nearly impossible to adjust the backband while in the boat. I upgraded to the newer seat design with a cleated line adjustment. The Dyneema cord slips and the back band would not hold under more than slight pressure. I leaned a little hard against the backband while paddling backward and the line ripped a hole through the seat. I was able to improve things significant by replacing the Dyneema with a thicker cord with a nylon sheath. The back band still slips under heavy pressure though. Plus side: Epic's pricing for a new seat was surprisingly reasonable.
After eyeing one of these…
After eyeing one of these for years, I finally pulled the trigger. It's everything I imagined and more. Fast, light, maneuverable and capable in surf and heavy seas. Loaded it will carry supplies for a week long trip or lightly loaded dance in the surf all afternoon. Hatches are completely water tight and putting the boat where you want it is easy even without touching the rudder. I hope after this first six months, I'll have years to push it to the limit.
Great boat. Fast, light,…
Great boat. Fast, light, tracks well with rudder down.
I own an EPIC 16x (16' x…
I own an EPIC 16x (16' x 23"), which I've had for five years. It is my go-to boat for flat water such as lakes and reservoirs. The EPIC brand was created by two champion kayakers/canoers, The one I had the pleasure to meet is Greg Barton, the most decorated U.S. kayak Olympian (4-time medalist). The brand also boasts some serious ocean distance records, such as Freya Hoffmeister's record circumnavigation of Australia in an EPIC 18x. I like the hull design (vertical bow and stern) because it has a longer wetted length than other longer ocean kayaks. This enhances speed and paddling efficiency. I also like the unique Track Master Steering System with an integrated and articulated tail section that houses a drop-down/kick-up rudder. Lastly, I favor the combination fixed foot braces with tip-in steering pedals above the fixed braces. The boat has a rounded hull with no chines, so paddling and bracing skills are more important than with a chined-hull boat. The boat is agreeably maneuverable, but also tracks well with the rudder down. My $3k bought a fiberglass/kevlar/carbon fiber model weighing 41 lb. There are lighter versions for additional $$$, There are also 18x models (18' x 22'') that are narrow enough that you need to pay attention lest you get tippy. The 18x is marginally faster for a strong paddler going all out, but is also a bit more cumbersome to handle out of the water. The pricing has been the same for the 16x and the 18x. Along with the boat, I purchased an EPIC carbon fiber paddle that is adjustable for length as well as feathering. I tend to not feather the paddle because, unless one is paddling hard into a stiff headwind, the paddle blades don't met with substantive resistance when out of the water. I periodically spray some purpose-made protectant on the boat to help protect it from sunlight, and the coating also renders the hull more slippery. Of my six kayaks, this is my favorite.
I've owned my 16x in…
I've owned my 16x in performance spec for 10 months now.
I bought it as a long distance tourer where efficiency and comfort were the priorities. Unfortunately the standard carbon seat is anything but comfy so I swapped it for a P&H Aries seat with a Connect 30 backband. The seat needed some adapting to fit to the slider rail and was also fitted as low as possible to lower the centre of gravity and thus increase stability. Comfort now sorted. About 30 minutes into my first full day trip and I learnt how easy it is to roll, as I was talking to my friend and wasn't paying proper attention the swell suddenly pulled back revealing a submerged rock and the next wave flipped me over the rock. Rolled up with no issues at all. Over the winter I fitted a Flat Earth sail kit and found out just how fast this thing can go! Great fun. We were planning a fairly big open water crossing of 22 miles (35km) and with virtually no wind the sails were next to useless. It was very early in the season and I was far from paddle fit but we did the crossing in 4 1/2 hours so averaged 8kph with fully loaded boats. My partner was in a Rockpool Taran 16 and these two boats are pretty evenly matched for speed with the Epic being more maneuverable. So the Epic 16x has proved to be a great for what it was intended. What has really surprised me is just how good it is in very rough confused water. I used it for a weekend playing in big tideraces where I would usually use in my Valley Sirona. Quite frankly I was amazed. The extra speed made paddling against the flow a little easier, but the rudder was a revelation in these conditions, and a couple of times the huge front end volume saved me from purling. Next I tried it on the famous Bitches in South Wales. The Sirona is great on the wave, if I can actually get on it. Again the rudder made all the difference. Not only was it much easier to get onto the front wave, once surfing on it I could pretty much stop paddling and just use the rudder for minor adjustments - Great fun.
So why not 5*? The day hatch. The two main hatches have proved to be watertight in all conditions, however the day hatch leaks quite badly. With a hinge on one side and just one clip on the opposite side when the clip is closed the hinge side lifts slightly and allows the water in. Most of the time it's ok but in a big following sea it's lets far too much in. I've added silicon the to hatch rim to reduce this lifting and this has improved things but not stopped it. A standard Kajak Sport round hatch would be better or this carbon one with two or three clips to equalise the closure should work. It would however not be so easy to use on the water.
So overall I am very pleased with my purchase. It's (now) very comfortable, fast, stable in conditions and eats loads of kit easily. It's more than a match for the Taran in all conditions, but it is more fragile, so rockhopping has to be taken very carefully! I would highly recommend anyone after a fast touring boat, which you can still throw around, give the Epic 16x a thorough test drive. They might be very pleasantly surprised.
For context, I've owned (and…
For context, I've owned (and own) various generations of the 18' Epic kayaks. However, I also have had (and have) a half dozen other brands, so I'm not wedded to them. I was helping a friend shop for a used boat and we came across a 16x. I wasn't that interested but joined him in a test paddle and was pleasantly surprised. My friend didn't want it. The price was right, so I took it.
Those familiar with the breed know that the plumb ends maximize the waterline length and provide the efficiency and speed of a longer craft. It's claimed that the full volume bow augments rough water handling and I tend to agree. However, it contributes to an overall design that I believe requires fairly constant use of the 16x rudder in heavier seas.
Both the seat and footboard (with integrated gas pedal rudder controls) adjust. The backband adjustment system tends to slip. It lacks thigh braces so you can paddle it in the knees-up racing posture. Instead of braces, you slide your knees under the deck. I'd prefer the braces but was able to achieve a better lock for control and rolling with this boat than I did with the 18x. The deck lines are okay but not optimal for rescues and carrying a spare paddle. The carrying handles are fine but the screws can work loose. Hatch straps are effective but not especially easy to use in this generation prior to the latches. Build quality is better than previous years and the hull is quite light.
The boat is fast but it's also agile. For less powerful paddlers, it's probably faster than the 18' hull. It's less twitchy than the 18x at rest. It draws, sweeps, rolls, etc. with relative ease. Mine has the old style integrated rudder, which has inadequate bite in more extreme conditions, allowing this relatively short sea kayak to get bossed around a bit. The boat handles well, loaded or empty, but some cargo helps get the rudder more purchase. The fixed fin on the rudder is also an issue with surf launches and landings.
While it lacks some of the speed of the 18-footers and has a couple quirks (mostly worked out in newer editions), this lively boat seldom fails to generate a grin.
Without question the Epic 16…
Without question the Epic 16 is a fast, attractive, well thought out kayak. It is (dare I say) a 'status' boat, but with the performance to back it up.
I have the 'ultra' layup which tips the scale at an honest 33#. This allows a set of 'old shoulders' to car top and carry the boat (distances!) with ease. The lightweight layup does effect 'crash testing', but everything goes back together (proven by a prior owner who used it as a river runner).
Stability at first seemed iffy, but improves with velocity and experience with the boat. It is highly adjustable, but may take a bit of messing with to get to your 'perfect fit' - not unlike an ergonomic desk chair. I'm a 'medium' sized paddler and the cockpit is comfortable; knee height is good; ankles are a bit contorted when your knees are under the deck.
Rocker vs. tracking ability seems well balanced, though the hull geometry causes it to get pushed around in strong cross currents (think confluence of two streams).
I use the boat principally for conditioning, but it would be a great overnight boat. The hatches seal like Mason Jars . . . water tight is not a joke on this boat.
Customer service from Epic is excellent, even years after the initial sale.
The Epic 16x is a quick boat.…
The Epic 16x is a quick boat. It's a little unstable, but then again, it's not for white water. 16 feet and only around 40lbs, I'm very happy with it.
I recently purchased a demo…
I recently purchased a demo X16 at Bill Jackson's in Pinellas Park, FL. The folks there were very helpful. So far I used it on the twisting Weeki Wachee River as well as on a trip in the Gulf to Shell Island in the Crystal River estuary. This was against a flowing tide in a strong offshore wind. The X16 performed very well in both conditions.
Generally I do not like rudders but the SmarTrack rudder was easy to use and is the only rudder I would want. The hatches are huge and the covers are a dream to open and close. The day hatch with its hinged cover is easy to open and close while on the water. The shock cords in front of the cockpit are closer together then on my other kayak, so that I cannot use my regular deck bag but I use a North Water turtle bag which is just large enough for my electronic stuff. For larger items that I want at hand, I have installed 2 other bags inside the cockpit.
The X16 is the kayak I would consider for a multi-day trip involving big water. It is a fast, maneuverable, sea worthy, high volume kayak. I only wish my garage could fit the X18. Perhaps if I were to remove a wall...
I ended buying a used Epic 16…
I ended buying a used Epic 16 -2006 model due to its' light weight….39 lbs. My Nordkapp HMC is 58 lbs. and paddling once a week single handed was not fun for a guy who is not that strong. What I mean is the loading and unloading it from my van. I sold my NS Fuego due to the small cockpit opening (my idiosyncrasy) and kept my Nordkapp HMC. The Epic 16 I did not quite understand at the beginning. With the rudder up it is very nimble which is excellent but on the down side it does not track straight. I figured that this kayak was made to use a rudder.
Initially I had problems using the rudder pedal. No matter what I do, my toes invariably push the pedal. So the kayak goes zig zag. A guy at the CCK store (Oakland CA) by the name of Socrates advised me on how to adjust the height of the rudder pedal. And boom……problem solved.
I also did some minor modifications. The plastic fittings that hold the perimeter lines were giving me problems. The 3/16" cord slips out when I pull hard on it after a wet exit re-entry maneuver. I replaced the said fittings with the better ones from Necky? The people at CCK ordered it for me.
Now that I have been paddling Epic 16 for awhile, I must say that I'm beginning to really like this kayak. It is fast……6.7 mph w/ current assist (GPS) on a sprint using a wing paddle. Easy to load on my van due to its' light weight. It is straight tracking with the rudder. And if I have to maneuver a lot like in a corkscrew slough, the rudder goes up. And did I say it looks like a red Ferrari?
The Epic Touring 16 has been replaced by Epic 16X in 2007.
The epic Cruiser 16 was…
The epic Cruiser 16 was purchased in Carbon Fibre primarily for its weight, which at 15.5 Kg has to be one of the lightest touring Kayaks around . Being perilously close to 60, I was finding that loading a kayak onto the roof rack was an ever increasing challenge with a 25Kg boat and an 11st frame!
The performance required was for an estuary / lake / inshore kayak in the UK, to carry a paddler of many years, plus equipment for a full days paddle in comfort.
This boat brings a big smile to my face every time that I use it. It is light, a joy to paddle, responsive, comfortable and fast! Stability is remarkable considering its cross section which is basically round and it recovers well, which to my mind is a more important factor than primary stability. Being low in profile at the bow and stern it makes light work of cross winds.
The seat, backrest and footrest are all easily adjusted for perfect balance and the build quality is very good.
Often paddling alone, I would have preferred a colour other than the black of Carbon Fibre, but overall this is my only real criticism and I can truly commend this kayak to you for consideration, should you have a similar requirement to myself.
I just bought my wife an Epic…
I just bought my wife an Epic Cruiser 16. The boat is 16' long and 22 5/8" wide. It has a semi-plum bow, soft chines, rounded bottom with a flat section under the seat extending towards the rear of the boat. I had to beg my wife to let me take it out for a spin and I'm sure it will be the last time I get to paddle it...we'll see. I Thought I would review the boat while the memory was still fresh in my mind.
I paddled the Epic on the St. Johns River in a wide section (three miles wide). The water was flat to about a foot and one half. This boat's fit and finish is very good. Not quite as good as my QCC 700 but Epic's quality control is definitely getting better. I could not believe how fast it was. Cruising at 5-5.5 mph was easy. It seemed about as fast as my Epic 18 or my 700 (cruising) and it was very easy to keep up a fast cruise. Against the current, right after I got in the water (no warm up), with three liters of water behind my seat, dragging the water line, in a quick sprint, I hit 7.8 mph. It usually takes me about half an hour to warm up and about five or six sprints to hit my fastest sprint. My first sprint in the 18 with no water on the boat and on a lake (no current against me) was 8.7 mph. THIS IS A FAST BOAT! How can Epic make a boat this fast and so short?
It is also so stable that anybody could paddle it. When a large yacht passed close by me I took the opportunity to see how it surfed. I had some nine mph rides on those two to three foot waves and when I stopped I was about one mile away from my buddies. I turned and paddled at six mph back to them. How can Epic make a boat this short and this stable go so fast? Best of all, it only weighs 39 pounds. Not much more than my surfski. It makes my carbon/kevlar QCC 700 feel down right heavy. It is very light.
I am impressed with this boat. As a macho guy, I must have at least an 18' boat to feel good about myself (I wonder what Freud would say about that?) BUT this boat would be good for anybody. Epic has also finally got a great seat and back band. Very comfortable and first rate. I would whole heartedly recommend this boat to anyone! Truly anyone.
After much deliberation, I am very pleased with this boat choice for my wife. I believe she will easily keep up with the club, she will become very confident in the bumps and will not grow out of the boat any time soon. With it's speed, stability and light weight, I know she will love the boat. Oh yeah, the seat adjusts too. You can adjust the seat to trim the boat for performance or to allow smaller or shorter people to get their legs in the proper bracing position/location of the boat. Nice touch! Great Job Epic! Happily submitted!