Trip Overview

Early in the morning of the second day I could hear chunks of ice crashing into the nearby rocky south shore which sounded like a metal shovel on dry cement. Nothing unusual I suppose since the air temperatures dropped to around -minus 10F; and I believe water freezes at around 32F. My sleeping bag had a thin layer of frost as well as the tent providing minimal relief to the cold conditions. I was happy, somewhat warm in my Zero degree Marmot bag and needing to pee badly -having held this bodily function for the last 6-hours due to my lack of desire to get out of my warm confines.
Winter had finally arrived in Northern Montana, no surprise since it is only a couple of weeks until Christmas; days short of sunlight, and strong winds blowing in from nearby Canada meant winter was just around the corner if not already here. A fine time to go canoeing I thought. Actually it was not my idea at all. My daily tasks for the past several weeks had been preparing for a 7-week trip to S.E Asia exploring the hot, humid, malaria infested jungles of Cambodia and Vietnam. Over an evening of beer with a good buddy we somehow convinced each other that paddling the upper Missouri River in Montana next week was a good idea. This sounded like a fantastic idea after the fifth pint of Neptunes Ale but upon waking in the morning it sounded like an even better idea. How could I possibly pass up the opportunity to paddle one of the most scenic and historic flat water sections in all of the USA?
Climbing out of my sleeping bag into the bright clear Montana sunshine on that second day at -10 degrees awakens a lot of suppressed thoughts one may hold. "What the #$&& am I doing here?"; being my first thought. Large sheets of ice two inches thick floated by only to be halted by a collision with the shore. It was practically the only sound in the still dawn silence except for my paddling partners cries for "hot coffee."
I had never been "winter canoeing" before and my paddling partner had hardly ever been paddling. Despite his lack of paddle experience he is high on outdoor skills and hardcore adventure- having walked a couple of times across the width of the country from Mexico to Canada as well as a recent backpacking trip in Newfoundland in the winter...he had what it took to survive the 150-miles we were about to complete.
Leaving Ft. Benton on the 2nd of December in a blinding snowstorm prompted the local newspaper to take our photos. We were unsure if it was for the obituary column or the Darwin Award section. Most locals thought we were "nuts"; a few I think were envious of our undertaking too. By the time we reached our first camp just downstream from the Marias River, we had acquired nearly two inches of snow on top of the canoe. Thanks to a full Cooke Custom Canoe Sprayskirt we stay somewhat warm if not colorful. A red canoe with a blue and yellow skirt really stands out in a near whiteout.
We were dressed and prepared for the worst. Warm layers of clothes, neoprene boots and glove, down coats and Sorrells boots for camp along with plenty of "liquid boyscout" kept us plenty warm for the long cold dark evenings we would encounter over the next 8-days. This section of the Missouri River has changed very little since Lewis & Clark plodded upstream in 1805 soon to be followed by many mountain men, fur traders, and the paddlewheel steamboats which somehow found their way from St. Louis all the way to Ft. Benton, Montana. No wonder so many of them ended up being wrecked and sunk along this not-so-deep section of the river. I was surprised they made it at all.
We were camped on a large island downstream from Coalbanks landing. This provided a good "bail-out" point had the river totally frozen across, since we could have "Lewis & Clark styled" it upstream for a half hour dragging our canoe and gear to the landing if we needed to. The day was spent mainly around the fire. We opted to hang tight for the day, playing it safe not to travel beyond the point of no-return had the river frozen over. We walked to the far downstream point of the island only to see the channel we were on completely frozen across. Not really a big deal, after all this is Montana and it could easily be 35`F the following day.
The sunset that night proved to be spectacular. With the ole saying "Red sky at night, sailors delight", we knew we would have a clear day following. The temps seemed to have warmed up during the night and the river had less congestion of icebergs crashing into one another. On cold days like these with minimal sunlight it was not uncommon for us to depart camp until around 11am. We needed about two hours of sunlight to pack, thaw out, eat, and gain mental confidence. The hot coffee every morning and limitless amounts of firewood played a huge factor in our attitude. It amazes me how many people we met prior who said we would never get a fire built after the previous week of rain and snow. It's such a myth to think that wood is wetter in the winter than in the summer even when covered with a layer of snow upon retrieval. I'm sure the "liquid-boyscout" (i.e Coleman fuel) helped a great deal at getting a fire going.
By mid-day on our third day out the sun started to cloud in and the air temps increased dramatically. We stopped briefly at Eagle Creek where Lewis and Clark camped. The river was solid ice about 20-feet out. We were able to break our way to shore dragging the canoe atop the large sheets of ice until they collapsed. My Chota Mukluks have had a leak since day one. Thankfully, despite being able to ring out my socks nightly of water, the thick neo-preen kept my toes warm. My partner however who had a simple pair of rubber boots that didn't leak had cold toes the entire trip.
Our attitudes were positive while standing on shore eating a cold frozen lunch mixed with a thermos of hot coffee. Large chunks of ice floated by having broken off from the nearby shore. The White Cliffs perched high above us almost as if to say "what brings you two to this place so late in the season?" We both have the utmost respect for mother nature and at any time had we felt seriously disrespectful or under her wrath we would have hiked out leaving the canoe and gear till spring. After all, this was probably the first winter descent of the Whitecliffs of the Missouri and most likely not a single human would venture along its shore till probably late March we were not worried about ditching our worldly possessions.
Just below Citidel Rock which looms over the river like an ancient monolith made famous by the 1830 paintings by Carl Bodmer, we paddled into Hole-in-the Rock camp. The ground finally was snowless having melted off during the day however a large sheet of ice the size of a hockey rink kept us from paddling directly to shore. Sliding a canoe over ice is actually very simple and a lot less strenuous that portaging. Hole-in-the-rock is a BLM constructed camp with pit toilets, fire rings, and two wind shelters. These shelters are ideal since you can set up your tent inside them to avoid anything mother nature dishes out. They are basically a 3-sided cabin with plenty of room to cook and air out your gear especially in the busy summer when this section of the river is crawling with hundreds of paddlers a week. A slight drizzle began to fall after our first Guinness stouts. A warm fire managed to crackle for hours despite the constant raindrops.
Our evening was spent telling stories about past adventures, Lewis &Clark, UFO's and cattle mutilations which have occurred frequently in this part of Montana. We had read stories of many ranchers and units from the nearby Air Force Base who have had strange unexplained encounters in this remote section of Montana. We too had actually been transporting a real alien. My partner had brought a three-foot blowup doll of a green alien as our mascot. We named him Al Lien and he provided much needed humor during the long cold days. Al even found a place to ride atop our loaded canoe as if being abducted and held captive by humans- a strange role reversal for both of us.
Rain fell the following morning. We were in no hurry to head out and opted to wait to see if the weather would break which it did. The tall white cliffs looked like castles and poet towers, the sun periodically shinning down as if spotlighted just for our benefit. We arrived at the another Lewis & Clark campsite near Arrow Creek. Directly across the river looms a two-hundred foot wall of limestone that extends about 1/2 a mile downstream. Very little wood was found here due to being picked over by summer paddlers but we managed to have a small fire to take the chill off of our cold damp bones.
We descended a nearby high hilltop for a spectacular view and sunset of the surrounding area. I could almost envision herds of buffalo foraging for grass while Sioux Indians pondered the potential food-bank. A slight breeze blew in from the west, still no sign of any humans, only an occasional high jet stream from a Delta or United airplane was visible. My Sorrell Boots had so much mud on their soles while walking around it was difficult to get a good footing and I had to periodically kick off the collection on the bottom on my boots.
The next day we made good time on the water. We were both aware and cautious of the weather at all times, and discussed our potential for being stuck down here and having to hike out. As we approached Judith Landing (over 1/2 way of our trip) we knew that we could walk about 30-miles to the nearest town if we had to. This remote dirt road is basically the only such road of any type to access the entire route save but few old homestead access places. At a good distance we did see three aliens (humans), two goose hunters in camo and a guy on a quad-runner. No words spoken between us, just a minor disappointment in having to see another person. I'm sure they were all shocked at seeing a bright red canoe appear out of the cold December air as we were of seeing them.
Just upstream from McClelland Ferry which is closed for the season we spotted a nice camp situated among some old cottonwood trees to set up our camp. A fire was quickly started, with plenty of wood to last for hours and another hot meal was eaten joyously and a few gills of Jameson's Irish Whiskey for dessert which put us both in a relaxed and peaceful mood.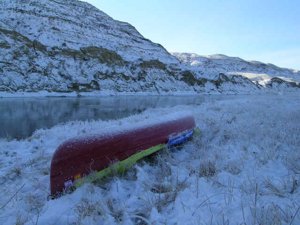 The geology below Judith Landing is similar to S. Utah or the Painted Desert of Arizona. By now we were back into the snow, everything covered in an inch or two of the fluffy white. Shortly after we retired into our sleeping bags the wind picked up tremendously. Within an hour it had nearly reached hurricane force. The tent and make-shift tarp over top began to rattle uncontrollably and I had to make three different trips outside the warmth of my sleeping bag to secure all the tent-lines and make sure the canoe didn't blow away. The sound was rather uncomfortable and I hunkered down deeper into my bag to avoid the sound of the wind and tent. It blew until about an hour before we got up in the morning. We were both glad nothing was destroyed and surprised by the addition of another inch of snow.
Packing gear into dry-bags when they are frozen is like trying to bend and shape kitchen linoleum countertops. There is just NO play or give in those rubber bags. By now we were pretty efficient at packing and realized we needed to get the hell off the river before we really had to hike out and leave everything. The next 55-miles was very isolated with basically only two minor dirt roads that most likely won't see any car traffic until spring. I felt like we were pressing our luck with the snow and cold. I was ready to get home and begin packing for a two-month paddle trip to Vietnam and Cambodia. I looked forward to hot humid temps in the 80's.
We paddled for hours sometimes not uttering a single word to each other. We were both in awe all day at the fantastic beauty of this place and of having the rare opportunity to see it in these snowy conditions. We felt honored. Thousands of Canada geese honked and passed overhead in V-formation many heading north instead of south which confused us. Mile after mile went by until late afternoon we managed to paddle once again OUT of the snow and into warmer temps. The air seemed close to 40-degrees as we found a great camp in a huge cottonwood bottom directly at the famous Nez Perce ford where Chief Joseph crossed in the 1860's fleeing to Canada with General Howard hot on his trail. The sunlight painted colorful pictures on the nearby hillsides and I could almost see the shadowy silhouette of Chief Joe and his proud people. Another warm fire, a few more gills of Jamesons, more funny stories of the past and a realization that we were on our last night out on the river made for a final peaceful ending to our journey.
Morning broke with clear blue sky that Montana is known for. We packed early and took a casual walk along the river to where Chief Joesph crossed. The water is only about a foot deep here providing easy access for horses to cross.
Bald Eagles perched high atop many cottonwood trees watching us as we neared James Kipp Recreation Area where we had my other truck waiting for us. The water in the last twenty miles is very slow and we were glad that it had warmed up otherwise the river most likely would have been frozen completely across. It was time to end the 2008 paddling season and get home to do some final Christmas shopping.
The canoe landed at the icy landing about 1-hour before it got dark. We opted to stay at the BLM campground at the takeout and head to Ft. Benton the following day to retrieve my other vehicle. This campground is huge with maybe 80-sites. We were the ONLY ones camping there.
Another large hot fire was prepared while the final meal and Irish Whiskey was finished happily and thankfully. It was time to head home for the holidays...

Authors note: Winter paddling anywhere is NOT recommended! Go in November or earlier.

Outfitting:
16' Mad River Explorer with full Cooke Spray skirt.
Fees:
NO FEES, NO PERMITS especially in winter.
Directions:
Ft. Benton is north of Great Falls about 1/2 an hour. The take-out is about 2 1/2 hours east of Ft. Benton about 23 miles north of Roy, Montana.
Resources:
I actually had a set of 1894 river maps as well as some BLM maps of the river. The river has changed hardly at all since Lewis and Clark.
Trip Details
Trip Duration: Extended Trip
Sport/Activity: Kayaking, Canoeing
Skill Level: Intermediate
Water Type: River/Creek (Up to Class II)