Trip Overview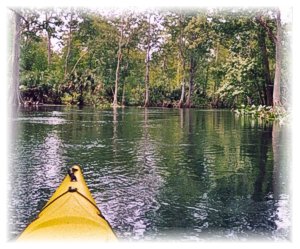 Probably one of the best river experiences Florida has to offer! I'm not the most experienced paddler out there but this river is absolutely amazing. It offers a non-traditional experience compared to other Florida rivers.
It's a fairly wide river with very clear water; I can't recall any portion of the trip where I couldn't see the bottom. This presents a wonderful opportunity to see some of Florida's aquatic life (various species of fish most notably the large Alligator Gar, and of course Alligators).
The shore is lined with large old cypress trees that give the river a jungle atmosphere. Adding to the jungle appearance of this river are the monkeys that can be seen about half way up the river; when my group passed by them there was about six or so. We floated around the monkeys for awhile and they didn't seem to mind the company.
The river ends outside of the National park at some kind of theme park. We didn't beach our kayaks and check it out, but the general area has some really sandy areas where you can watch fish and turtles through the clear water (great place to grab a beer and take a break).
This trip is a total of ten miles; five miles against the current (on the way there) and five miles with the current. It took my group about five and a half hours to complete the trip (Note: we took our time on the way back). Unfortunately motor boats have the ability to navigate this river and on the weekends they come in mass, but don't let this discourage you - this river is amazing.
Throughout the entire trip I saw about: 10 monkeys, 4 alligators, lots of fish and turtles.

Accommodations:
I always camp in Salt Springs FL, they have huge primitive sites and the staff are always nice. You can take the 314 west directly to Wayside park from Salt Springs. Wayside park has a kayak/canoe put in point and two boat ramps.
Fees:
You have to pay $5.00 to enter Wayside park. If you want to camp in Salt Springs the primitive sites cost around $18 a night.
Directions:
The entry to this river is at wayside park off of state road 40 on the western side of the Ocala National Forest.
Trip Details
Trip Duration: Day Trip
Sport/Activity: Kayaking
Skill Level: Beginner
Water Type: River/Creek (Up to Class II)