Trip Overview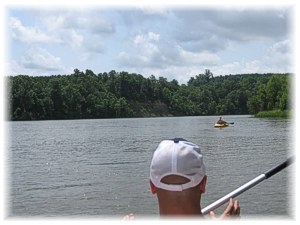 Four friends and I made a paddle trip from Columbus GA to Florence Marina, GA. Our original plan was to take out at Lake point Marina in Eufalua, AL (55 miles) but we were just too beat. Columbus to Florence is a little over 40 miles. We were traveling pretty heavy with 3 coolers, tents, chairs, etc. Our vessels were a single person kayak and two canoes.
Anyone considering this trip should not underestimate the work involved. I thought the water flow would be more than what it was. About 10 miles south of Columbus, the water 'flow' was almost non existent. This is the main reason we couldn't make the entire trip to Eufaula. The headwind we had all weekend combined with the flat water made for an exhausting trip.
Also keep in mind that the weather at this time of the year (May/June) is unpredictable. Saturday afternoon we were hit by a severe thunderstorm. Winds were STRONG. I estimate we had 30-40 mph wind gusts on the river which nearly capsized my canoe. After the short, but intense storm, I was both physically and mentally drained.
One last warning- this stretch of river, at least after Ft. Benning, is pretty heavily patrolled by DNR. We ran into the Russell County guys (VERY nice by the way). Make sure you have fishing licenses & life jackets!
Our plan was to leave out from Bulldog bait shop on Victory Drive in Columbus (32'26'45.26 x 84'58'38.33) on Friday, and arrive at Lakepoint Marina in Eufaula (31'58'58.77 x 85'06'35.16) on Sunday afternoon. We parked a truck at the marina and shuttled the driver back up to Columbus. We got a late start, and was not able to leave out of Columbus on the boats until 11:45AM.
About a mile from Bulldog bait shop is an old abandoned barge that ran aground. It's a pretty cool place to stop and take a picture. My buddies decided to jump off the top into the water.
Approx. 5 miles from the start of the trip you will enter Ft. Benning. There are no structures or signs of modern life from this point until river bend park. FANTASTIC scenery. Unfortunately for us the fishing was not very good so we mostly paddled. At (32'18'18.03 x 84'57'27.11) you will find Uchee Creek Recreation area on Ft. Benning (Alabama/ West side of the river). We stopped here for ice for the coolers. Our plan was to find a nice sand bar to camp on after we got out of Ft. Benning. There were none to be found. Luckily, just after Benning on the east side of the river is River Bend Park (32'14'38.11 x 84'54'45.36) with a boat ramp, camp sites, primitive bathrooms and a streetlight- which is the only was we found the park since it was about 10PM by the time we got there.
We left Riverbend about 9AM Saturday morning. Again, are very few modern intrusions on the banks, but there will be many more boaters beginning here. There are few places to stop so we ate lunch in the boats. About 2PM we passed Bluff Creek Campground (32'11'09.51 x 85'40'00.28). There is camping with nice bathrooms and showers there. Shortly after leaving Bluff Creek you will pass the paper mill in Cottonton. The next access point is Hatchechubee Creek (32'08'08.53 x 85'03'38.76). We did not stop here, but was told there is no camping and only primitive bathrooms. We finally reached Florence Marina around 7PM.
Florence Marina (32'05'22.67 x 85'02'38.15) has camp sites as well as cabin rentals. The general store was closed but the ranger on duty, Mike, was quite possibly the nicest person I've ever met. He opened up the store so we could buy drinks & food, and later even helped us find a ride to pick up our truck in Eufalua. He went way out of his way to see that we had a good stay at Florence. We were BEAT and did not feel like making the rest of the trip on Sunday morning (another 12 or so miles) so we called it quits and left for home.
Overall it was a good trip. I prefer faster moving water as opposed to the lake-like pace of most of the 'Hooch.

Accommodations:
Camping at: River Bend Park, Bluff Creek, and Florence Marina
Outfitting:
Single person kayak and two canoes
Fees:
Fees at each vary
Directions:
The put in point is just off Vistory Drive in Columbus GA, next to the Civil War naval Museum. The take out is on Ha hwy 39 at Florence Marina, GA
Trip Details
Trip Duration: 2-3 Day Trip
Sport/Activity: Kayaking, Canoeing
Skill Level: Beginner
Water Type: River/Creek (Up to Class II)