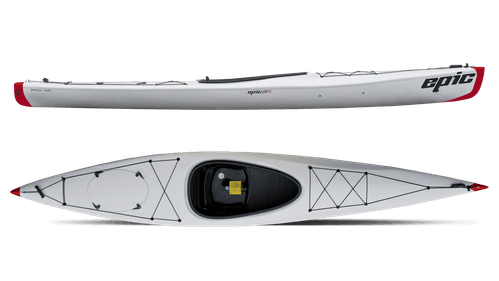 Epic GPX Options
Epic GPX Description
The Epic GPX appeals to a broad range of kayakers with its prefect blend of stability, light weight, and optimal tracking. Available in three construction types weighing in at 25, 31, or 37 lbs., carrying a GPX to and from the water is a joy. The GPX is outfitted with two bulkheads, front deck cutaways, a large rear storage hatch, heavy-duty full deck lines and outfitting, and an adjustable backrest designed to fit any paddler. The GPX is the ideal choice for anyone looking for a comfortable, responsive day-touring kayak that is as easy to manage on land as it is in water.
Read and submit reviews for the Epic GPX.
Epic GPX Specs and Features
Structure: Rigid / Hard Shell
Cockpit Type: Sit Inside
Seating Configuration: Solo
Ideal Paddler Size: Average Adult, Larger Adult
Skill Level: Beginner, Intermediate
Ideal Paddler Size: Average Adult, Larger Adult
Skill Level: Beginner, Intermediate
Additional Attributes
Fully adjustable footbrace
Three different layups
No rudder, no skeg
Stern Hatch
Deck Rigging
Read reviews for the Epic GPX by Epic Kayaks Inc. as submitted by your fellow paddlers. All of the reviews are created and written by paddlers like you, so be sure to submit your own review and be part of the community!
I bought the Epic GPX kayak…
I bought the Epic GPX kayak performance model in 2018. I have 64 years of paddling experience(!!!), and at 72, still paddle both my outrigger canoe and my GPX. I found the GPX kayak to be maneuverable, light, and responsive. It has very good speed for a short boat, as one would expect from Epic...I could keep up with kayaks longer than mine and paddlers younger than me just fine. I did find a couple of problems, both of which I solved by DIY actions. First, the boat will veer off to the left or right after paddline is stopped, making wildlife observation or photography difficult. Second, the seat back was pathetic, uncomfortable and useless. I replaced the seat back with a custom, aluminum-backed foam unit just to fit my back...problem solved. I also added a very small, permanent skeg at the stern keel line, made from a sliver of an old kayak rudder I had lying around. Again, problem solved. Now it is a near perfect kayak... still light, still speedy, still maneuverable enough to turn easily, but tracks well enough after stopping paddling to take wildlife photos.
i own a 2018 Epic GPX.…
i own a 2018 Epic GPX. Excellent stability, handling and performance. Very light and easy to cartop as well as launch at my own beach. Love this boat! Excellent and better than other kayaks I have owned over past 30 years!
I own a 2011 Epic GPX (37…
I own a 2011 Epic GPX (37 lbs.). I find the boat to be nicely made, reasonably stable, and quite fast; it's also a really nice looking boat. However, I agree with a previous comment that the GPX does have tracking issues. Maybe this is not a problem to some? Those who paddle on rivers might appreciate the boat's nimbleness and easy turning. On lakes, though, it's annoying that the boat goes into an immediate turn whenever you stop paddling. A skeg option on the GPX would have been nice (I plan to add an aftermarket one). One other thing - I'm also not a fan of the GPX seat. The back band is not adequate support, in my opinion, and I've also had problems with chipping away of the black plastic finish of the seat bottom.
I was looking for a lighter…
I was looking for a lighter kayak of one that I could handle by myself rather than depend on other people to help. I looked over lots of reviews and settled on the Epic GPX kayak which weighs 31 pounds and is one I can lift and load onto my car without any help as sometimes I like to go kayaking by myself. This kayak handles well and glides through the water without hard paddling and is pretty stable for me as I do like to take photographs of nature from my boat. I have had this boat for approximately 3 years and have had it in smooth water and some light chop with no problem. Its not a sea kayak but does well in rivers, streams and lakes. I am not interested in sea kayaking so this fit the bill for me.
I am a very experienced…
I am a very experienced paddler. (5.9/184lb) I purchased a new GPX ( 29lb) in December in Charleston. I was very happy with the weight and finish. I tested the GPX in choppy water on a windy day and thus did not appreciate that the kayak would not track well. It needed constant correction. I thought I had made a mistake buying the GPX. So I started experimenting with a small skegs stuck to the hull with duck tape. To my delight a small skeg corrected this weakness. After deciding on the right shape and size I made a plaster mold and engaged Johansen Boat Works in Vero Beach Fla to make a mold and a skeg. Mission accomplished.
The GPX with a black skeg matching the color of the bow and stern not only looks great it now performs extremely wall requiring minimal correction even in windy conditions. It is very comfortable and stable. I believe Epic should consider offering skeg at least as an option as it dramatically improves tracking performance and thus raising my rating to 10 with a skeg.
My Epic Gpx ultra is now two…
My Epic Gpx ultra is now two years old and probably worth more than my car. Echoing other reviews it is a delightful kayak especially for those of us with hip and shoulder surgeries who need a light weight boat. I recently paddled with about 20 others on a big River tributary to the Chesapeake bay and I had to wait for the others to catch up - the Epic moves. Clearly not as stable as heavier plastic boats and I'm super cautious about rocks, piers and landings. The ease of lifting it makes me so happy.
Agree with the good previous…
Agree with the good previous reviews 100% I bought a GPX Performance last winter and was so happy with it I've ordered a GPX ultra. Wondered about the stability but it is much more stable than I expected along with unbelievable ease of paddling for long trips. I like everything about it.
Got this boat last Fall and…
Got this boat last Fall and while I have only been out in a few times, I LOVE, love, love it! I live on Puget Sound and needed a boat light enough for me, 120lb Female to hoist over my bulkhead and carry down to the water by myself. This light boat is perfect. I can also strap down easily by myself on top of my car.
In addition to needing a very light boat, I wanted something that would perform in choppy waves on the Sound and be comfortable for someone who just had multiple hip surgeries and this boat delivers. I love it so much I bought another one this Spring.
Howdy fellow kayakers and…
Howdy fellow kayakers and those of you looking for a great smaller, fast and stable kayak. This is my small review of the Epic GPX 12' 11" fiberglass model 36 lbs, yellow and white. I'm 5'11" 225 lb. size 11 boot, as of this writing 52 years old. Been paddling kayaks off and on since I was in my mid 20s mostly on MN lakes and rivers.
My main kayak is an old 1975 Hyper-Craft 13' 11" X 24" wide crossover kayak, kevlar hull and fiberglass deck @ 34 lbs. The Hyper-Craft has a rather smallish cockpit and a seat that is a little tight but this old boat is fun to paddle on days when the wind is on the calm side. The boat is fast to a point then it will start to loose control, when this happens I'm usually paddling as fast as I can paddle anyway. The boat is fun, fast, and stable, it will flip if careless or in a heavy tail wind.
The GPX has not flipped over in a heavy tail wind or huge 2+ foot whitecaps I always feel safe, scared at first but safe it also works good for fishing it is nice and stable.
Epic GPX:
To fully enjoy any sport you need the proper Quality equipment and kayaking is no different. Start with the Epic GPX beautiful lines, that is what first grabbed my attention a real beauty in every way. The tall bow with the low stern and very little to no rocker to slow you down. The cockpit is big this aids in entry and exit, foot pegs are easy to adjust the seat and back-band are comfortable. The forward deck has a special shape allowing extra clearance for optimal paddle stroke, no banging of knuckles. GPX has a very nice storage area behind the seat and ample deck lines and rigging for extra gear and safety.
Epic Kayaks are designed by 2X Olympic Gold and 11X World Champs, Greg Barton and Oscar Chalupsky. The kayaking experience of these two Premier Kayakers shows in the design, handling and speed of the GPX. Who designed your kayak?
This is a very fast kayak, call it a little rocket if you will, very easily controlled without need for a rudder or skeg. Been out on 30 + mph windy days 2 foot whitecaps the boat handled well going into, with and across the wind and waves. At first the huge waves scared me but after a few miles I sat back and enjoyed the beauty of the moment, waves, spray and all. Paddling into the 30 mph wind never really slowed me down that much I made great headway with every paddle stroke. Never felt like I might loose control, tip or anything, the boat will weather cock into the wind but easy to correct with technique. This boat does not ride up over big waves like my Hyper-Craft, a spray skirt for rough water is a good idea you will get wet. I have no experience ocean paddling only cold MN lakes, the Hyper-Craft will nose dive coming over the top of huge waves.
I can't say enough good things about this little kayak, beautiful, fast, stable, low profile, nice tracking, edging, control. Spending extra for a quality kayak is in my opinion money well spent, you will get much more enjoyment. Spending money on a plastic toy tub to save a few hundred is a very disappointing experience you will never reach nirvana.
Go paddle an Epic GPX then be prepared to find out how really pathetic and disappointing your current kayak is in comparison.
For the curious:
Download the wonderful kayak design program Bear Boat SP then go to the Analysis and do the KAPER comparison. Pick the (Epic Rec. 13) and compare it to any kayak listed you will see how fast this little kayak really is. From my personal experience I say it is even faster than what the KAPER comparison shows, a wonderful kayak in every way.
I just love my kayak couldn't be more happy.
I just purchased the Epic GPX…
I just purchased the Epic GPX Performance and am very pleased with this kayak. I have paddled the lakes of Central FL for the past 5 years in a canoe and finally made the decision to sell the canoe and buy a kayak.
This is a General Purpose kayak and fits my needs perfectly. It is a composite yak and constructed very solid. The thing that sold me on the boat is the weight and the design. It only weighs 31 lbs. I am in my early 50's, but have a bad back. Did not want to haul around a 50-70 lb. boat. This boat really tracks well even though there is no rudder or skeg, even in the wind. This is due to the design of the yak. It is so much faster than a canoe and doesn't get blown around in the wind. I bought a spray skirt but have not used it yet. I may need it if I take the boat to the Florida Keys where it is a lot windier.
The boat is 25" wide and 12' 11" long and very stable. The width I don't think slows me down at all, and it tracks like a much longer yak. I did not want a boat that was too tippy. It has one storage hatch in the back. I bought a 2006 model from a local dealer and got 20% off the $2,000. retail price tag.
I am sure this yak is not for everyone, but if weight is a concern, check this boat out, it's truly "one hand" light! It is a little pricey, but worth it. I mean I plan on using this yak for years to come.