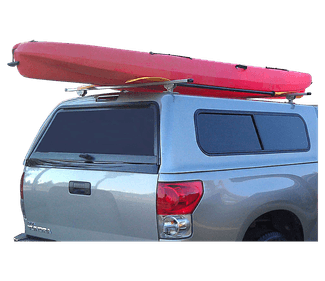 Crosstopper Truck Rack Options
Crosstopper Truck Rack Description
U.S. Rack's Crosstopper Truck Rack is designed for pickup owners who want to carry loads of up to 300 LBS. dispersed (each bar is rated for up to 150 LBS.) on their truck camper shell. Installation is quick and easy! The lightweight design features a durable 60 Inch Cross Bar and (4) adjustable tie-down anchors. The dimensions are similar to a standard Thule roof top crossbar and will fit any size truck topper/camper shell with a generally flat roof. Installation time is 1 hour or less, and without drilling using our Universal Stake Pocket Insert Brackets. The Rack can be easily removed in less than 10 minutes. All Racks produced by U.S. Racks are made in America using heavy duty steel and zinc plated hardware.

No one has submitted a review yet for the Crosstopper Truck Rack. Please help out the community and share your experience!
Additional Attributes
Carries up to 300 LBS. Distributed Weight Capacity
Some Drilling Is Required To Attach The Mounting Feet
Rubber Gasket Pads Under Mounting Feet Resist Leakage Into Your Topper
Main Part Of The Rack May Be Removed Or Re-Installed In Less Than 5 Minutes
Durable 60 Inch Aluminum Cross Bars
Integrated Metal Eyelet Loops For Multiple Tie-Down Anchors
From Box To Assembly To Fully Installed In 1 Hour Or Less
Can Be Removed And Disassembled For Compact Storage In 10 Minutes
U.S. Rack, Inc.
Crosstopper Truck Rack Reviews
Read reviews for the Crosstopper Truck Rack by U.S. Rack, Inc. as submitted by your fellow paddlers. All of the reviews are created and written by paddlers like you, so be sure to submit your own review and be part of the community!
Similar Accessories for You: